Posted by Erin Donahue on 04/20, 2011 at 07:10 PM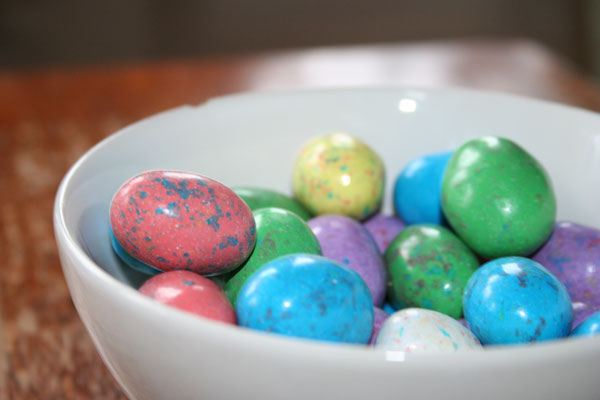 Nothing says Easter like a bowl full of brightly colored eggs! Whether you dip the eggs into blue or purple dye or paint them with pink polka dots and yellow stripes, consider buying local eggs this holiday season.
Check out Over the Moon Farm in Rebersburg. This grass-based organic farm raises rotationally grazed dairy heifers, pastured chickens, turkeys, and pigs. The 50+ hens feast on organic grains, insects, clover, and grass, which makes their eggs some of the tastiest and most nutritious you can find in central Pennsylvania. Over the Moon Farm eggs are available at Tait Farms and at regular scheduled "Meat Day" sales.
After Sunday, you can devil the eggs or pickle them, or simply add a touch of salt after you peel away their shells. Here's one quick and easy recipe for deviled eggs that would make a great appetizer at any gathering this Easter.
Deviled Eggs
1 dozen hard-boiled eggs
1/3 cup mayonnaise
2 teaspoons mustard
1/2 teaspoon salt
1/2 teaspoon ground black pepper
Paprika for garnish
Peel and cut hard boiled egg lengthwise. Remove the egg yolks, add them to a small bowl, and mash them with a fork. Add mayonnaise, mustard, salt, and pepper and mix thoroughly. Fill the empty egg whites with the mixture and sprinkle lightly with paprika.
Author: Erin Donahue
Bio: Erin is a senior at Penn State majoring in broadcast journalism with a minor in sociology. She's excited to share her passion for food, writing, and multimedia.