Posted by Erin Donahue on 04/05, 2011 at 05:32 PM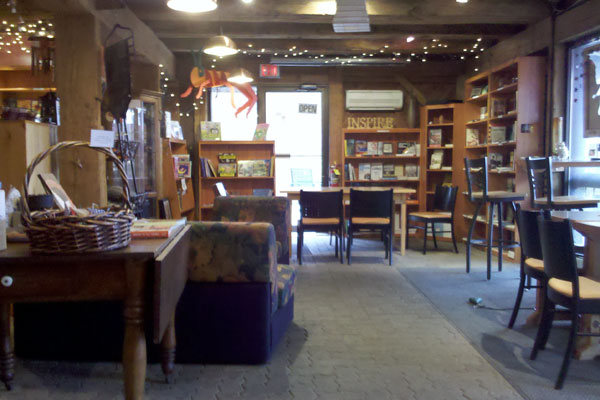 East West Crossings in Lemont is home to teas, books, gifts, and art. Their mission is to build a peaceful environment to help customers relax and warm their spirits.
"We have created a place where people pause from their busy lives, relax alone or with a friend or two, and rejuvenate," says Ruth Nissly, assistant at East West Crossings. Ruth looks forward to seeing regular customers and meeting local artists and musicians who have entertained or displayed work at the shop.
Located on Elmwood Street, East West Crossings inhabits a quaint spot along a creek and a bike path. With an outdoor deck overlooking both, the shop is a great place for brunch and a cup of tea on a sunny day.
They offer a wide variety of flavored teas like Moroccan mint, cinnamon-orange spice, lavender sunset, and strawberry sassafras that are distributed and shared from a pot with free refills. Christina and I shared a kettle of vanilla spice, which was presented on a wooden tray with two glasses and a cookie for each of us.
The café inside East West Crossings is called Warm Stones Tea Café and serves healthy snacks made from local ingredients whenever possible. "We take pride in making our scones, muffins, cookies, and vegan cupcakes from scratch," says Ruth. "Our soups and special entrees are also made in-house almost every day."
The regular menu includes pita bread served with your choice of hummus or baba ganoush, fresh fruit bowls, homemade soups and quiches, and fresh vegetarian or chicken sandwiches. We selected a platter of pita bread with mashed eggplant, and it was delicious.
After spending the afternoon with two pots of tea, satisfying snacks, and good conversation, I can honestly say that Christina and I left East West Crossings feeling more relaxed. The anxiety I've been feeling about graduating slowly disappeared, and I think I will be spending a lot more time at the tea shop before I leave State College next month.
In addition to its peaceful atmosphere, East West Crossings also offers educational classes like Indian cooking classes and tea workshops. Last month they hosted a Japanese Tea Ceremony with Tea Master Frey who demonstrated a ceremony that is traditionally performed during the Cherry Blossom festival in Japan.
Stop in for a cup of tea and a rest, and ask about their upcoming events.
Hours of Operation:
Monday, Wednesday, and Thursday from 10am until 7pm
Friday from 10am until 5:30pm
Saturday from 11am until 5:30pm
Sunday from 12pm until 5pm
(Closed on Tuesday)
Author: Erin Donahue
Bio: Erin is a senior at Penn State majoring in broadcast journalism with a minor in sociology. She's excited to share her passion for food, writing, and multimedia.