Posted by Jamie Oberdick on 03/31, 2014 at 12:02 PM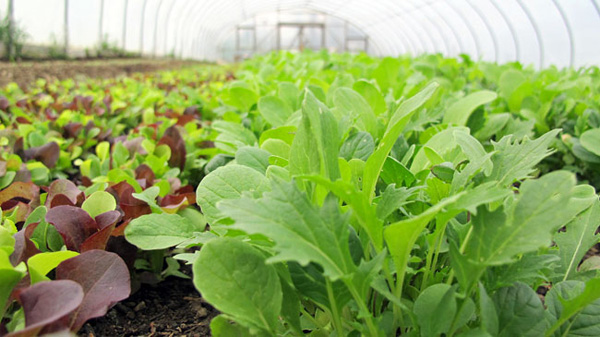 One of the best early season treats for the locavore is a fresh salad made with the first greens of the season. While some might be surprised to hear this, there are three farmers markets going on right now that offer delicious and fresh greens: Boalsburg Farmers Market on Tuesdays 2:00-6:00 p.m. at the Boalsburg Fire Hall, the State College Indoor Farmers Market on Fridays from 11:30 a.m.-5:00 p.m. at the State College Municipal Building Lobby, and the Millheim Indoor Farmers Market on Saturdays from 10:00 a.m.-1:00 p.m. at the Bremen Town Ballroom.
The cold winter has slowed area farmers down some, but they still have some of the first greens of the year for sale, including the class spring salad mixes, but also spinach, green garlic, and spring onions. The variety of greens will increase as the spring progresses, so become adventurous about what you put in your salad bowl. This includes spinach, baby chards and kales, etc. You can also add thinnings from greens you are growing in your garden.
One final note: the outdoor farmers market season normally starts at the end of April into early May. Each area market has a different date. We will post a story in mid-April that lists opening dates and times for the 2014 Farmers Market Season. Stay tuned!
Author: Jamie Oberdick
Bio: Editor, Local Food Journey | Passionate about supporting local food in Central PA