Posted by Jamie Oberdick on 01/18, 2012 at 10:47 PM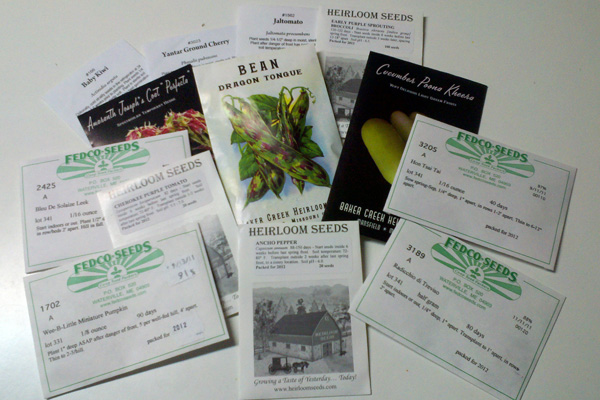 We are in the heart of winter, so buying garden seeds may not be the first thing on your mind. However, if you are planning on ordering seeds online (you will more choices online than you will in a store), now is the time to do so.
There are several reasons to make sure you order this early. For one, some varieties may sell out if you wait too long to make an order. Also, some of the smaller seed vendors will take up to several weeks to fill your order and send it out. For veggies that need started 6-10 weeks before last frost (for last frost dates, see this map), that could end up being a problem if you don't order until say end of February.
As far as what to order, there are some considerations to take into account before you decide what you might want to grow. Most of them require a bit of research. Here are some examples:
Size matters - Some plants take up a lot of space, and could end up overwhelming your garden. For example, if you have a 10'X10' garden and want to grow summer squash, look for "bush" varieties that won't take up near as much space as a variety that vines. Also pay attention to plant spacing.
Stay in the zone - As in your USDA zone. You can find what zone you are in by typing in your zip code in this handy zone finder. While this is generally for perennials and most garden vegetables are grown as annuals, this can help give you an idea of how long your growing season is. For most of us, we have a 150-day growing season, give or take. So, some things, like certain varieties of peppers, gooseberries, melons, etc. won't grow well here. Keep an eye out for varieties that can be grown in northern gardens. A good source for seeds for northern gardens is Fedco Seeds.
Price - Like anything else, some seed vendors are pricier than others. Do some shopping around. One thing you might want to pay attention to is amount of seeds - some might be cheaper but you don't get as many seeds. Since many varieties have seeds that are viable for two, three, even ten years, this is something to take into consideration. Plus, think about growing things that you like but are pricey in the stores. I grow shallots because they are so easy to grow and can be expensive to buy.
Old favorites - Have a favorite vegetable? Chances are good you can grow it. Plus, I will guarantee you it will taste better straight from the garden than it would from a store.
Try something new….and maybe weird - I love growing unusual vegetables. I've grown purple tomatillos, white tomatoes, purple speckled green beans, greens you won't find at Wegman's, etc. If you like to cook, it's a great way to expand your repertoire and a great way to impress your foodie friends.
No matter what kind of seeds you decide to buy, if you are buying online, do it now while you still have the selection and so you get seeds in time.
Author: Jamie Oberdick
Bio: Editor, Local Food Journey | Passionate about supporting local food in Central PA