Posted by Emily Wiley on 12/20, 2011 at 07:32 PM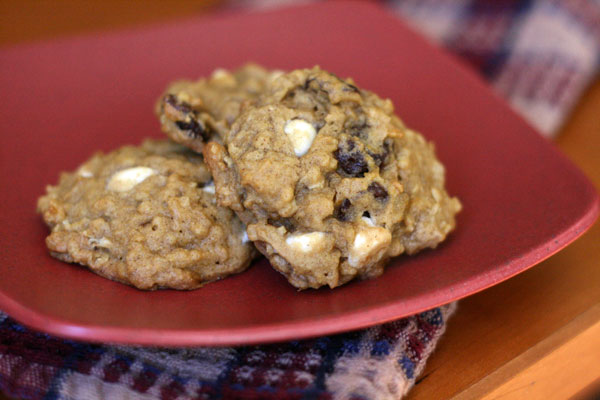 The combination of pumpkin puree and oatmeal makes these cookies nice and chewy. The white chocolate chips are sweet, and the dried cherries are sour. And the spices couldn't be more festive.
Ingredients
2 cups all purpose flour
1 1/2 cups old-fashioned oats
1 teaspoon baking soda
1 1/2 teaspoon ground cinnamon
1 teaspoon pumpkin pie spice
1/2 teaspoon kosher salt
1 cup (2 sticks) butter, softened
1 cup packed light brown sugar
1 cup granulated sugar
1 cup pure pumpkin puree
1 large egg
1 teaspoon vanilla extract
1 cup white chocolate chips
1 cup dried cherries, roughly chopped
Directions
Preheat oven to 350 degrees F. Line baking sheet with a silicone mat or parchment paper.
Combine flour, oats, baking soda, cinnamon, pumpkin pie spice, and salt in medium bowl. Beat butter, brown sugar and granulated sugar in large mixer bowl until light and fluffy.
Add pumpkin, egg, and vanilla extract; mix well. Add flour mixture; combine until all ingredients are incorporated. Fold in white chocolate chips and dried cherries.
Drop by rounded tablespoons onto prepared baking sheets.
Bake for 12-14 minutes or until cookies are lightly browned. Cool on baking sheets for 2 minutes; remove to wire racks to cool completely.
(from My Baking Addiction)
Author: Emily Wiley
Bio: WPSU Multimedia Producer | Wife and Mother | Lover of Food and Photography | One-Half of The Culinary Couple