Posted by Emily Wiley on 09/07, 2010 at 06:02 PM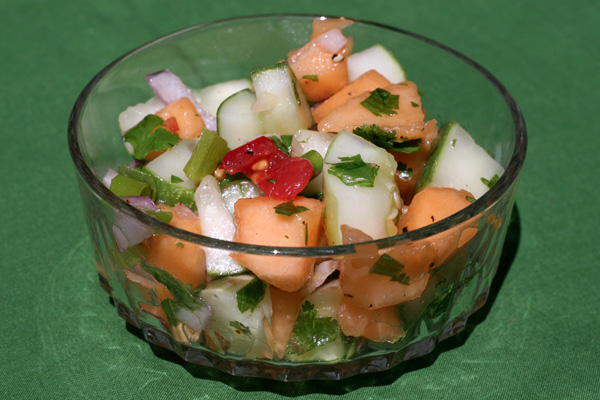 Labor Day may represent the unofficial end of summer, but farmers markets continue to carry sweet, juicy produce like melons and cucumbers through the end of the month.
Smell the melons before choosing one for your basket. You want the scent to be fresh with a slight trace of floral. As for the cucumbers, buy organic, if possible, and leave the skins intact. Then enjoy this refreshing salad during the final warm days of the year.
Ingredients
3 cups cantaloupe, diced
2 cups cucumber, diced
juice from 1 lime
zest from 1 lime
1/4 cup onion, finely chopped
1/4 cup tomato, diced
2 scallions, thinly sliced
1 bunch cilantro, coarsley chopped
pinch of salt
pinch of pepper
1 tablespoon extra-virgin olive oil
1/2 fresh jalapeño, seeds removed and chopped finely
Directions
Fold all the ingredients together in a serving bowl. Cover with plastic wrap and refrigerate at least two hours before serving, to let flavors incorporate. Serve alone, as a garnish for meats, or as a dip with chips.
(adapted from Not Eating Out in New York)
Author: Emily Wiley
Bio: WPSU Multimedia Producer | Wife and Mother | Lover of Food and Photography | One-Half of The Culinary Couple