Posted by Jessica Reilley on 07/26, 2010 at 05:59 PM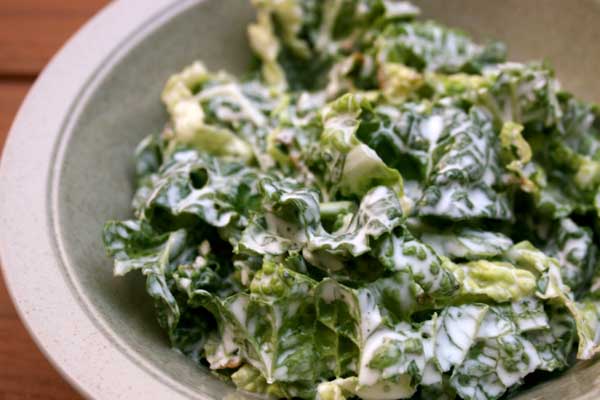 This light, creamy dressing is great not only on cabbage and coleslaw, but also on salads and fresh vegetables, like cucumbers.
Ingredients
1/2 cup plain yogurt
1/2 cup sour cream
3 tablespoons (or more) fresh lime juice
1 1/2 teaspoons finely grated lime peel
2 tablespoons honey
1 serrano chile, seeded, minced
2 garlic cloves, minced
1/3 cup fresh cilantro, minced
8 cups thinly sliced green (or Napa) cabbage
4 green onions, minced
salt and pepper
Directions
Whisk together yogurt, sour cream, lime juice, lime peel, honey, chile, and garlic in a large bowl. Stir in cilantro. Add cabbage and green onions; toss to incorporate evenly. Season with salt and pepper. Cover and chill 1 hour.
(Adapted from Epicurious)
Author: Jessica Reilley
Bio: Jessica Reilley is a Penn State grad with a passion for food, cooking, and photography. For three years, she owned a personal chef business before taking a break to spend more time with her family and young son. Jessica lives in Gilbertsville, Pa.