Posted by LacCreta Holland on 01/16, 2015 at 02:33 PM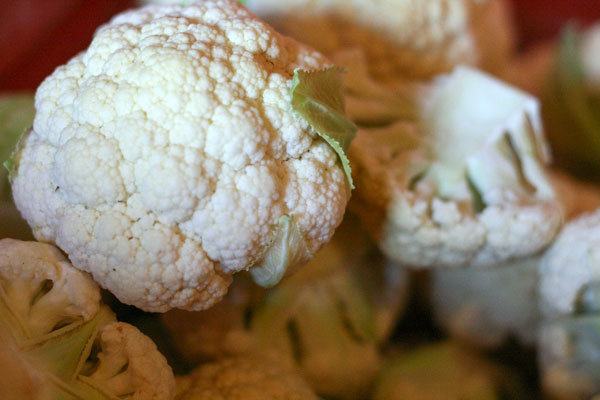 The weatherman says there will soon be a "January thaw." Really?? Somehow I don't believe it as I wake up to the temperature, yet again, in the single digits or teens. That's when I know that I will make soup for dinner!
I have read a lot of blogs and Facebook pages about soups lately. So many look so good and I want to try them all. Maybe that is how I will make it through until spring this year. We do like soup in our house.
But for now, I will tell you of a soup that has a long history in our family. Yes, another food/family story! When my husband and I were dating we decided to spend the weekend at his childhood home for me to "meet the parents." My future mother-in-law, a wonderful cook, served us Cream of Cauliflower Soup on a hot summer day. She said it was a new recipe that she wanted to try. Was she trying to impress me? She did not have to—-I liked her right away!
My husband and I married several months after that visit, and this Cream of Cauliflower Soup has been a staple in our family ever since. The great thing about it is it can be served hot or cold.
So, for a cold night, like many of the nights we have been experiencing, serve it steaming out of the pot. And dream of those warm July nights in our future, when all you will want is something cool to serve for dinner.
Cream of Cauliflower Soup
Ingredients
- 2 Tbsp. butter
- 1 large onion, chopped
- 2 cans (14 ounces each) chicken broth (I use the equivalent of Better than Broth dissolved in water)
- 4 medium carrots, peeled and sliced ¼ inch thick
- 1 medium cauliflower, cleaned, stem removed and divided into florets (small heads)
- 1 cup half and half (I used 2% milk to save calories)
- 1/8 tsp. nutmeg
- salt and pepper
- sour cream
Steps
- In a 3 or 4 quart saucepan, melt the butter, add onion and saute about 5 minutes.
- Add the pieces of cauliflower to the onions and saute them until the florets begin to brown a bit on their edges.
- Pour the chicken broth into the saucepan, add the carrots, and bring to a boil.
- Reduce the heat and simmer until the vegetables are very tender (about 20 to 30 minutes).
- Pour a small amount of the soup at a time into a blender, whirl away to create a puree, returning the puree to pan.
- Add half and half (or milk), nutmeg, salt and pepper to taste.
- Heat to simmering.
- If the soup is very thick, add more milk to thin to your liking.
Serve with a dollop of sour cream. Makes 4-6 servings.
Author: LacCreta Holland
Bio: LaCreta Holland—views on life and food change when you have lived in Italy--believes that good smells from the kitchen make people happy---loves to teach people to cook through my business Happy Valley Learn to Cook