Posted by Brittany Smith on 11/27, 2012 at 03:47 PM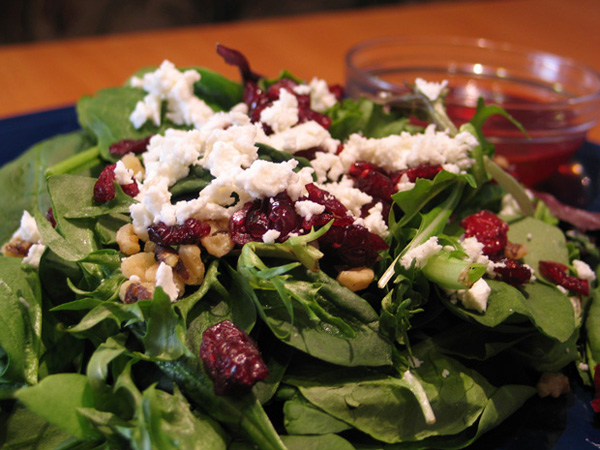 Tis' the season to break out those crazy holiday recipes, and let's be thankful for the ones that work!
Every year, cranberries are the one ingredient that I can't seem to find a place for. I love them, but can't bear the sight of that cylindrical slab or goopy sauce. After a myriad of berry-big failures, I've vowed to take a lighter, simpler approach: a salad.
Any big dinner requires a lot of dish prepping time. If you're like me, and want a quick way to incorporate holiday favorites, I encourage you to try this healthy option.
An added plus – a light salad saves room to gorge on the good stuff!
Ingredients
1 (5.5 oz) package mixed salad greens with spinach
3/4 cup sweetened dried cranberries
3/4 cup glazed walnuts
1 (15 oz) can mandarin oranges, drained
3/4 cup crumbled bleu cheese
1 avocado – peeled, pitted and diced
2 tbsp cranberry vinaigrette salad dressing, or to taste
Directions
Place the salad greens into a salad bowl, and sprinkle with dried cranberries, walnuts, mandarin orange slices, bleu cheese, and avocado chunks. Drizzle salad with dressing, toss and serve.
Tip: If you aren't a fan of bleu cheese or mandarin, substitute another cheese, and try some seasonal apple slices instead.
Author: Brittany Smith
Bio: Brittany is a senior at Penn State majoring in advertising. She loves food and flavors and trying new recipes. Her dream is to produce advertising content for the Food Network, and possibly one day attend culinary school and become a chef.