Posted by Kristin Camplese on 06/18, 2012 at 10:59 AM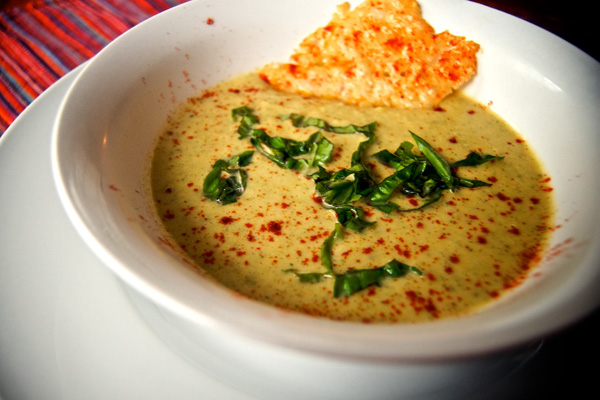 Making soup is one of my greatest pleasures. After you know the basic models and processes, you can do just about anything and use up just about anything. Plus, it is obviously about the best comfort food you can find.
Summer time makes me miss soup a lot. As much as I like the idea of chilled soups (and love the flavors, to an extent), they are just not the same. Somehow, I just feel like I am eating a giant bowl of salsa or leftover sauce from the refrigerator. It just doesn't seem … finished.
So, the rainy weather (combined with everyone feeling a little run down) gave me the urge to make a summer soup. Of course, I had zucchini to use. And corn. And some beautiful fresh garlic and onions. I added smoked paprika because I wanted the smoky quality to add depth and contrast to the sweetness of the corn. From there though, I went in a slightly Italian direction with lots of basil and a parmesan crisp garnish. But I am actually going to change this recipe up next time and make a Cuban Corn Bisque (with smoky chipotle, garlic, cilantro, lime zest, and a little queso fresco to garnish).
See what I mean? You can do anything with soup. The only rule is that you cook it until it tastes good. There is no excuse for a bad soup because you can keep tasting and adding to it (very much unlike other dishes). You cook soup until it tastes good. Period.
Don't forget to share your favorite zucchini recipe this month! Find details about the contest.
Corn and Zucchini Bisque
Serves 4.
Ingredients
1 large zucchini, cubed (about 3 1/2 cups)
1 large onion, chopped
4 cups of corn
2-3 large cloves of garlic, chopped
3/4 tsp smoked paprika
Small bunch of basil, chopped
Salt and Pepper
Olive Oil
1 1/4 cups water
1/2 cup white wine
1/2 cup heavy cream
Parmesan Cheese
Directions
In a large sauce pan or stock pot, heat about 1 tablespoon of olive oil. Saute the zucchini, onion, and garlic until soft (about ten minutes). Season with salt, pepper, and smoked paprika.
Add 3 cups of corn and a nice handful of chopped basil. Saute for 1-2 additional minutes.
Add water and white wine, cover with lid, and cook 5-10 minutes more until very soft.
Using an immersion blender, puree the soup until very smooth. (You can also use a regular blender, however be VERY careful with blending hot liquids. They expand and can make a huge mess or burn you. You must do it in small batches and keep the lid slightly off, while covering with a towel, to allow the steam to escape without having the soup splashing out and burning you. I would strongly suggest an immersion blender … they are great for all sorts of tasks and are not expensive at all.)
Stir in heavy cream and remaining 1 cup of corn. Season to taste with salt, pepper, and additional smoked paprika.
Garnish with parmesan crisp, additional chopped basil, and a sprinkle of smoked paprika.
For the Parmesan Crisp: Preheat oven to 400 F. On a parchment lined baking sheet, thinly slice or grate some parmesan cheese in square shapes. Bake for 7-8 minutes until very bubbly and golden brown. Remove from oven and cool (they will crisp up as they cool).
Author: Kristin Camplese
Bio: Author of Cuizoo.com | Writer | Photographer | Wife and Mother of 2