Posted by Jamie Oberdick on 12/05, 2013 at 03:12 PM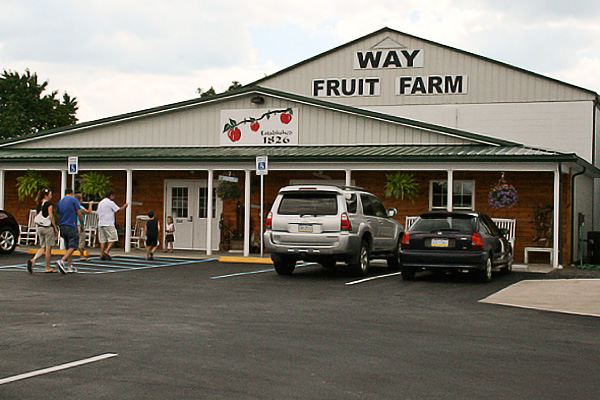 Way Fruit Farm offers all sorts of things that are good to eat; from different types of fruit to a variety of local food products from places like Tait Farm Foods and Hogs Galore. But their bread and butter, what put them on the map, is of course apples.
As a big fan of Way Fruit Farm, I can tell you that I see a lot of people buying huge amounts of apples for all sorts of recipes. I met a woman there last year who was baking apple pies for recipes, planning on giving them as gifts…a total of 25 pies! Apple pies certainly are a great way to use Way's apple bounty, but I recently had the opportunity to talk to Megan Coopey, who with her husband Jason are co-owners of Way Fruit Farm, about some other recipes for apples. Jason and Megan are two reasons to visit Way Fruit Farm, always friendly and helpful, and Megan was glad to help by giving me several fantastic recipes that would make a fantastic addition (or additions) to the Holiday table.
Apple Butter Pie
Ingredients
3 eggs
1/3 c. brown sugar
1/2 tsp. cinnamon
1/4 tsp. salt
dash of cloves, nutmeg, and allspice
1 1/2 c. apple butter
1 1/2 c. half and half or light cream.
Steps
Combine all ingredients until well blended. Pour into prepared pie crust and bake at 425 degrees for 12 minutes. Reduced heat to 350 degrees and bake for 40 minutes or until filling is set. Cool on rack. Serve with whipped cream.
* This is a nice alternative to pumpkin pie, because it has that same creamy texture, but an apple flavor instead!
Grandma Way's Apple Cake
Ingredients
2 1/4 c. flour
1/2 c. brown sugar
1/2 c. white sugar
2 tsp. baking soda
2 tsp. cinnamon
1/4 tsp. salt
1/2 c. shortening
1 c. sour milk
2 eggs
2 c. raw, chopped apples
1 tsp. vanilla
Steps
Mix all ingredients except apples together for 2 minutes. Add raw apples and stir just to incorporate. Spread batter into a 9x13 inch pan and sprinkle the top with chopped nuts (pecans or walnuts). Bake 45 minutes at 350 degrees or until a toothpick inserted in the middle comes out clean.
Homemade Citrus Applesauce
Ingredients
Zest and juice of 2 navel oranges
Zest and Juice of 1 lemon
6-8 tart apples (such as Granny Smith, Ida Red or Stayman Winesap)
6-8 sweet apples (such as Gala, Golden Delicious or Fuji)
1/2 c. packed light brown sugar
1/4 lb. unsalted butter
2 tsp. ground cinnamon
1/2 tsp. ground allspice
Steps
Place zest and juice of oranges and lemon in large bowl. Peel, core and slice the apples and toss them in the juices. Add brown sugar, butter, cinnamon and allspice. Pour into glass or ceramic baking dish and cover. (Do not use metal.) Bake for 1 1/2 hrs or until all apples are soft when poked with fork. Stir with a whisk until smooth or serve as is for a chunky applesauce. Best served warm. Great as a dessert plain or with ice cream or as a topping for pancakes!
Author: Jamie Oberdick
Bio: Editor, Local Food Journey | Passionate about supporting local food in Central PA