Posted by Kristin Camplese on 06/28, 2012 at 11:04 PM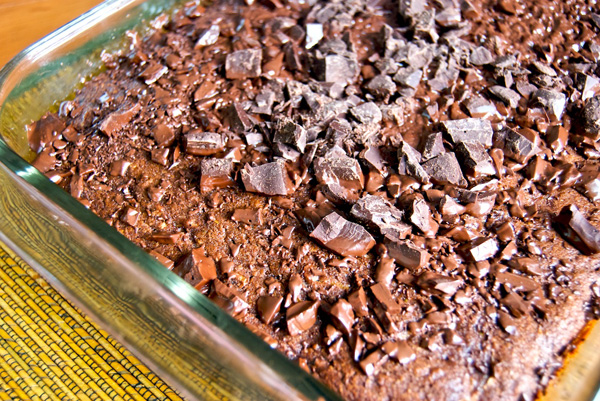 A chocolate cake that's healthy, too? You got it.
This cake is made with whole wheat pastry flour and has much less sugar than the original recipe, which called for 1 1/2 cups—I have cut it back to 1/2 cup of honey and 1/4 cup of sugar. I also used half butter and half coconut oil.
Shredding the zucchini is quick work in the food processor, but it can certainly be done by hand, too. I don't even bother peeling them. And if you have any shredded zucchini left over (and I know you will), freeze it in containers—I mix it into soups and chilis all year long as a veggie booster that you hardly know is there.
The resulting cake is really great though—very moist and delicate. It reminds you a bit of the old Texas Sheet Cake or a chocolate snack cake. And given the modifications, it can actually be a decent snack for the kids.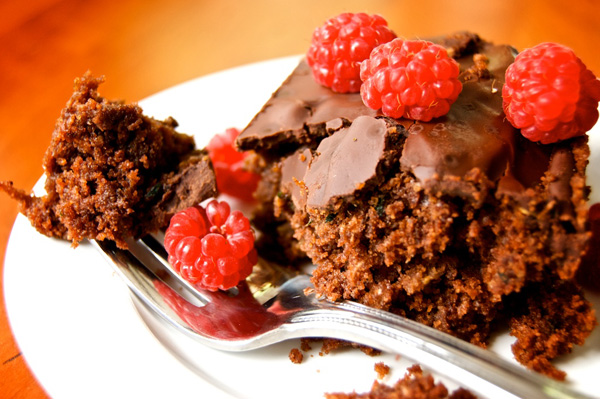 Ingredients
1/2 cup of butter, softened
1/2 cup of coconut oil (brought to liquid state, can also use canola oil in place of it)
1/2 cup of honey
1/4 cup of sugar
1 egg
1 t vanilla
1/2 cup of milk (at least 2%)
Juice of 1/2 lemon
2 1/2 cups whole wheat pastry flour
5 T cocoa
2 t baking soda
2 1/2 cups shredded zucchini (unpeeled, tightly packed)
6-8 oz. bittersweet chocolate, chopped finely
Directions
Preheat oven to 325 F. Butter a 9×13 inch glass pan and set aside.
Prepare wet and dry ingredients: In a small bowl, combine milk and lemon juice. Whisk in egg and vanilla. In another separate small bowl, combine whole wheat pastry flour, cocoa, and baking soda.
In a large bowl, cream together butter, coconut oil, honey, and sugar with an electric mixer. Alternately add the flour mixture and milk mixture in about three separate additions. Mix until just combined and then switch to a wooden spoon or spatula.
Stir in shredded zucchini and pour into prepared pan. Bake at 325 F for about 40 minutes.
Remove from oven and immediately sprinkle chopped chocolate over surface of hot cake. As the chocolate melts, spread evenly and let cool completely before slicing. (You may want to throw it in the fridge for a bit to harden the chocolate.)
(Possible variations: Add some espresso powder, replace vanilla extract with almond extract, or stir some extra chocolate chunks/chips or nuts into batter.)
Author: Kristin Camplese
Bio: Author of Cuizoo.com | Writer | Photographer | Wife and Mother of 2