Posted by Alexandrea Scott on 02/09, 2016 at 02:42 PM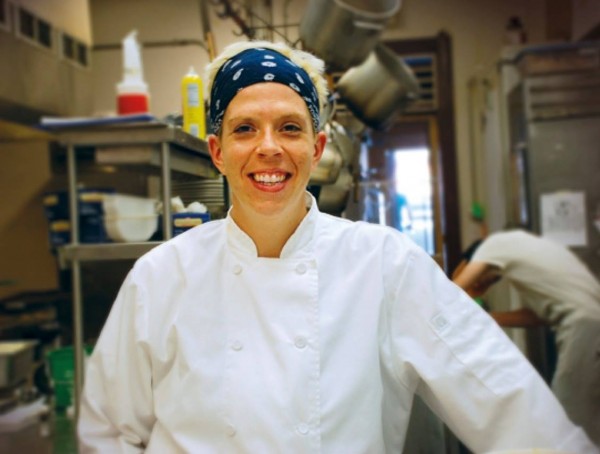 By Alexandrea Scott
The New Elk Creek Café & Aleworks is a great source of local grown food, house brewed ales, and live music to kick off the weekend. This unique stop in the little town of Millheim, Pa. will definitely bring you back for more.
They recently just remodeled and have a fresh new logo. They changed their approach because they wanted to update the café with the hopes of becoming the weekend hot spot for locals and people passing through. Every weekend they have live music from local bands for their customers to enjoy.
The transformations in the building aren't the only changes that took place. Erin Snyder, the new chef, is really changing up the menu for Elk Creek Café. Snyder attended the Culinary Institute of America, in Hyde Park, NY. There she also was an assistant teacher for a while.
Snyder has been with the Elk Creek Café for about seven months. Talking to her, it is clear to see how passionate she is about her job, and how happy she is working here. Every two months she changes the menu. She adds that she likes to bring in Asian cuisine and items that won't be found on the menu of any other local place.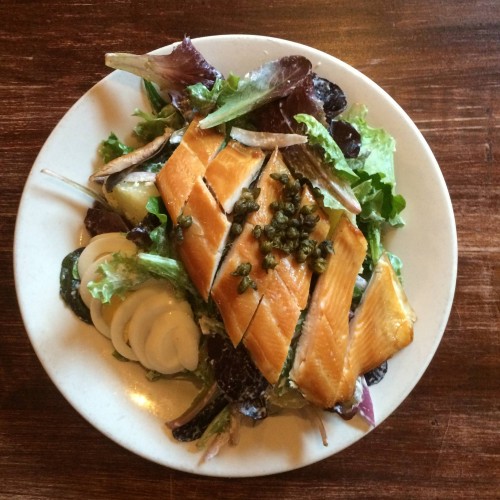 Smoked trout salad with fried capers. Photo courtesy of Elk Creek Cafe Facebook page.
In the winter it is hard to get a lot of local grown food, Snyder explains. However they do make it work. They are partners with around 22 local farms, so they really are big supporters for helping out small town farms.
While enjoying dinner here, I ate the buffalo chicken wings, and I have to say they are the best ones I have tried while living in State College. I also think their menu is very unique and offers a variety from local beef burgers to Vietnamese recipes.
Ben Engle, a charming waiter, has been working here for many years. He is a local boy who lives down the road, and he says how it is such a fun environment to work in and will be sad when he leaves for college in the fall.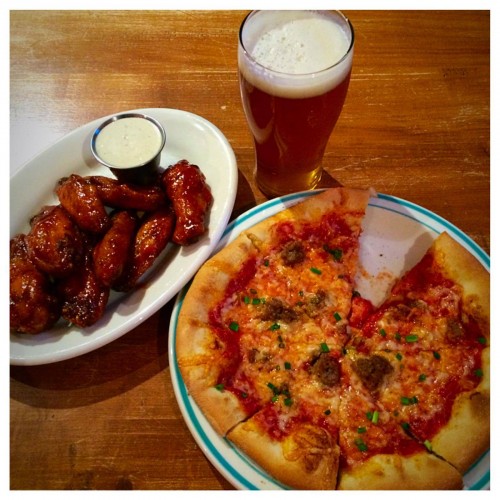 Pizza, beer, and wings, Elk Creek Cafe style. Photo courtesy of Elk Creek Cafe Facebook page.
The Elk Creek Café is also exceptional because they make their own wines, ales, and shrubs. They sell their products to other local restaurants, and can even be found in Wegmans!
Although it is a 40 minute drive from State College, I think it is worth the trip for a night out!
Author: Alexandrea Scott
Bio: Penn State Broadcast Journalism • Coffee & red lipstick • Travel addict