Posted by Jamie Oberdick on 04/15, 2016 at 12:49 PM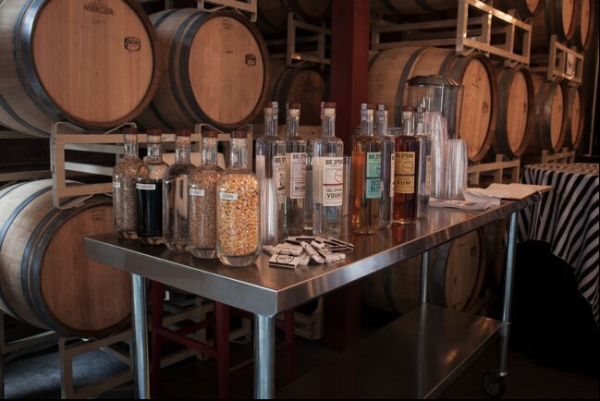 Tastings are no longer just for wine anymore.
Over the past 10 years or so, a variety of craft breweries, distilleries, and cideries have sprung up in Centre County and become a big part of the local food and beverage scene. To show off this local beverage bounty, the Central PA Tasting Trail was developed out of an initiative by the area's craft beverage community to unite and promote these businesses to locals and visitors alike, with the goal of gaining exposure for the craft beverage industry within Centre County.
Currently celebrating its second year, the Tasting Trail Ticket is available for $20 and gives participants access to businesses and giveaways during the month of April. One business participating in the Tasting Trail is Big Spring Distillery, a maker of fine small-batch spirits located in Bellefonte. "So right now we have 11 spirits, making stuff such as vodka, gin, aged gin, and we also have three whiskies, a white rye, white wheat, a white corn that we bottle and sell," Lucy Rogers of Big Spring said. "In addition to that, we have 140 barrels filled that are all aging."
While many people are surprised to see white whiskey, the color that everyone has in their mind when they think about whiskey comes from the aging process, Rogers said. Since the distillery has been open only since July 2014, there's still time needed for aging. She said that in several months, they'll have their first batch of bourbon, aged rye, and aged wheat whiskey that has been aged two years. In the meantime, they offer the other spirits to get their cash flow going.
Along with Big Spring, the members of the Central PA Tasting Trail include Barrel 21 Distillery & Dining, Elk Creek Café + Aleworks, Good Intent Cider, Happy Valley Brewing Company, Happy Valley Vineyard & Winery, Keewaydin Cider Mill, Mount Nittany Vineyard & Winery, Nittany Mountain Distillery, Otto's Pub & Brewery, Robin Hood Brewing Company, and Seven Mountains Wine Cellars. All offer unique tastes on the Trail, but Big Spring and the other distilleries have a unique challenge; they can only serve the spirits they sell. For a distillery, this means they have to serve a dry martini since they cannot serve vermouth. "It forces us to be pretty creative cocktail-wise," Rogers said.
Visitors to Big Spring on the Tasting Trail will find plenty of examples of that creativity. "We make several of our own cordials. We do several infusions, such as a cinnamon whiskey, we take our corn whiskey and infuse it with cinnamon sticks," Rogers said. "We have a hot pepper vodka they we infuse with habanero and jalapenos. We've done some cool stuff, and we're always tinkering and making the cocktails complex in flavor."
Along with the interesting cocktails, great beer, tasty ciders, and wonderful wines, as you tour each location along the trail you will get other benefits. Participants get their "passport" stamped to verify each location visit. Once you've completed the entire Central PA Tasting Trail, you then submit your ticket to one of the participating venues for your chance to win prizes during a drawing in May.
There are also other gifts offered to participants. "This year, you're guaranteed a free gift at every stop when you present your ticket," Rogers said. "Some are doing souvenir glassware, we happen to be doing a PA-made state slate coaster with our logo on it, and some people are doing a free tasting. It varies from place to place."
Rogers said that the Tasting Trail is a true group effort, with businesses that would ordinarily be competitors working together. "I think there's a broader appeal for a larger tasting trail that is more than wine," she said. "So if your spouse doesn't drink wine but you go to a brewery next, I think that makes the Trail a unique experience that can be tied together and be something everyone can enjoy."
In addition to the collaboration on the Tasting Trail, Rogers said all the local beverage production businesses already do a lot of referring to each other. "We try to do that for each other as much as possible because the more success we have individually, the more success we have as a group," she said. "A rising tide lifts all boats, and I think that's really true for this kind of endeavor where you have a lot of different companies trying to get everyone interested in the actual process of craft."
"The more you support us the more we support the local economy, so our success is good for the whole community," Rogers added.
To find out more about the Central PA Tasting Trail visit the Central Pennsylvania Convention and Visitor's Bureau's Tasting Trail page at www.centralpatastingtrail.com.
Author: Jamie Oberdick
Bio: Editor, Local Food Journey | Passionate about supporting local food in Central PA