Posted by Anna Lombardo on 07/31, 2015 at 12:44 AM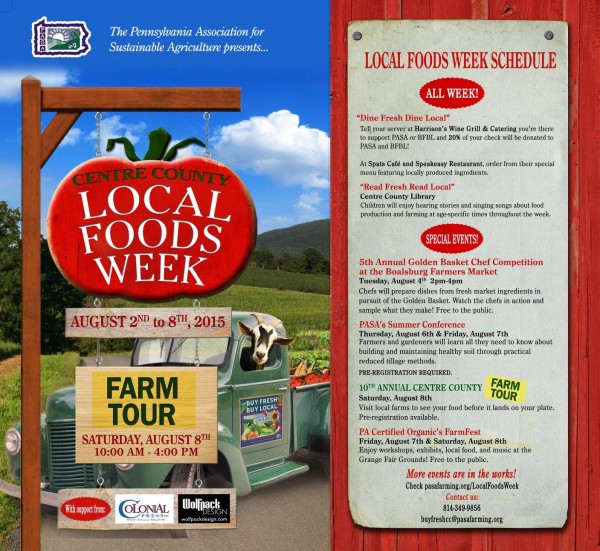 The 10th annual Local Foods Week, organized by the Pennsylvania Association for Sustainable Agriculture (PASA), will be held during the upcoming week. Beginning on Sunday August 2, and running through Saturday, August 8, a host of events—all focusing on local food—will take place in the State College area.
Participating restaurants will offer deals and specials throughout the week. According to PASA's website, Harrison's Wine Grill & Catering, located at 1221 E. College Avenue, will donate 20 percent of a customer's check when they mention PASA. Harrison's is a Buy Fresh Buy LocalⓇ partner, which means that they have "made a commitment to feature local foods and to support local producers," according to the organization's website. PASA coordinates the efforts of Buy Fresh Buy LocalⓇ in Pennsylvania.
"Our efforts are promotional," says Bethany Carter, who is the PASA Conference and Centre Co. Buy Fresh Buy Local® Chapter assistant. "Our priority is to help people become aware of where to buy local foods, and to cut out the middleman [when buying locally]."
PASA facilitates this process by providing the Buy Fresh Buy LocalⓇ label on foods and products that have been grown by local farmers; this ensures that buyers understand they are contributing directly to food growers in their area when they make their purchases. As one of the many partners involved in the Pennsylvania chapter of the Buy Fresh Buy LocalⓇ campaign, Harrison's maintains a list (on their website) of local producers with whom they work, totaling more than 20 different companies that provide food for the restaurant. Other restaurants who have joined the festivities during Local Foods Week include Spat's Cafe and Speakeasy Restaurant, which will offer a special menu all week featuring dishes made with local foods.
A number of other exciting activities take place during Local Foods Week. Centre County Library will hold Story Times, book readings concerning the "agrarian landscape," throughout the week. On Tuesday, August 4, the Boalsburg Farmers' Market will host its 5th Annual Golden Basket Chef's Competition, an Iron Chef-inspired cook-off where chefs are challenged to use a variety local ingredients and creatively put together tasty dishes. A press release from the market announces that "the event features chefs preparing a main dish and two sides from ingredients produced by Boalsburg Farmers Market vendors." The competition includes chefs from such establishments as the Nittany Lion Inn, Fasta Pasta, and even Harrison's, and those competing have just forty-five minutes to produce their dishes. Parking is free for this event.
Later in the week, on August 8, the 10th Annual Farm Tour takes place at eleven different area farms. Each farm will showcase its respective products, and a particular step in the process of creating these products. Happy Valley Hop Yard, for example, will provide information on the production of hops, and how to grow them at home. Participating farms will also have certain products for sale during the day. Carter said she has seen this event grow since it began ten years ago, though she conceded that because it is an outdoor event, attendance has tended to fluctuate.
"A few years back, we hit 1200 people," Carter said.
Farm Tour participants can purchase day passes (which allow them to visit all farms on the tour) at a rate of $15 per car or $10 per bike. There is also the option to pay-as-you-go, at a rate of $5 per farm. Passes may be purchased through August 8; locations that will be selling passes are listed on PASA's website.
Overlapping with the Farm Tour is the 4th Annual Pennsylvania Organic FarmFest, which will take place on August 7 and 8 at the Grange Fairgrounds in Centre Hall. FarmFest, which is free to the public, will feature a host of activities: live music, a number of speakers (who will lecture on such topics as local growing and GMOs), and several "fun run" style races, among other things. More information about the event can be found on their website. Carter mentioned that PASA will hold its first ever summer conference at a nearby location in Centre Hall on August 7, and she is encouraging those who attend the conference to stick around for the second half of FarmFest.
The goal of the week, Carter added, is to inform the community and to bring people closer to the food being produced in their area, as well as those who produce it.
"There are lots of people who don't know where to buy local foods," she said. "They are less connected to where their food comes from. We want to reconnect them."
Author: Anna Lombardo
Bio: Suburban Philadelphian English major at Penn State Avid learner, runner, and eater