Posted by Sam Komlenic on 05/24, 2011 at 04:07 PM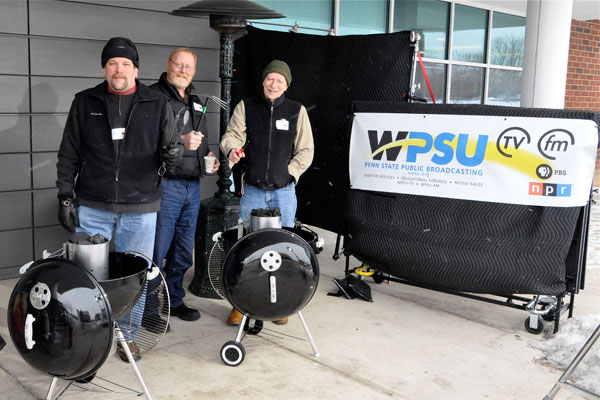 Until a few months ago, I had never heard of Caveman Steaks, but then Grillmaster Steven Raichlen entered my life. He is the subject of the PBS cooking series Primal Grill and is the author of The Barbecue Bible and Planet Barbecue, and he was also the guest chef at WPSU-TV's annual Connoisseur's Dinner. During his visit, the station hosted a cooking demonstration for donors and friends at our studios.
Steven is a great guy—very knowledgeable and capable, yet very low-key. The featured course, to be prepared outdoors on a cold February day, was his signature dish. The process is so simple and so primitive as to be almost disarming, yet the result is to die for.
The key to this awesome technique is natural lump charcoal—simple charred chunks of what was once solid wood—as opposed to briquets. Briquets contain ground charcoal that is combined with other ingredients like sawdust, coal, binders, ignition agents, etc. Lump charcoal is essential to these blackened, beefy steaks because they will be cooked directly on the coals—just like cavemen would have done!
Lump charcoal is also the key to my working closely with Steven that day. I am a lump charcoal evangelist. I've been cooking with it for decades, since I first saw it in use at the Watkins Glen racetrack campground. Lump lights faster and burns hotter and more quickly than briquets, and the end result is cleaner burning coals that get the job done much faster than briquets.
Anyway, the station needed someone who had lump experience to prepare and tend the grills outside while Steven was entertaining inside, and I was enlisted. The ideal way to start lump charcoal is in a chimney device specifically designed to light charcoal. It uses a few sheets of newspaper to light the coals and works pretty quickly. I prefer to light mine somewhere other than the grill, since the newspaper leaves a fair amount of ash behind. I will say this right now: DO NOT USE LIGHTER FLUID!! Otherwise that stinky stuff will be all over your beautiful steaks. Hey, it is natural charcoal … let's keep it that way!
With the capable assistance of two friends, we kept things hot until the Grillmaster arrived to perform his fired-up magic act.
Steven starts with two-inch thick T-bone steaks; big, beautiful, custom-cut cow slices that are impressive just sitting on the plate. The only preparation that's necessary is to rub each side of the steaks with an obscene amount of coarsely ground salt and pepper. We had prepared a bed of red-hot coals about three inches thick on a Weber grill so that two-thirds of the grate was covered. Leave a smaller, cleared "cool zone" at the front to keep the griller safe and their hands out of the heat. The coals are fanned lightly with a magazine or a piece of cardboard to blow away any light ash.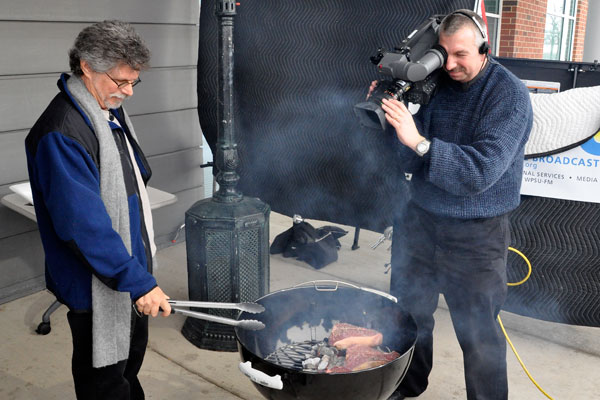 Here's where the show begins—and what a show it is! Using grill tongs, place each steak directly on the glowing bed of coals. In no time, the steaks are sizzling and smoking, the juices providing a light show of small flare-ups around their edges. Check the steaks by lifting them slightly with the tongs. When they are dark brown and crispy-looking (about five or six minutes), flip them and repeat the process. As you remove the steaks from the fire, tap the tongs on the rim of the grill to knock off any hot embers that might have attached themselves during cooking.
This method provides a smoky, charred crust around the entire steak, while leaving the center rare to medium-rare. I have found that you can adjust the process a bit. If you prefer your steaks medium, you can cut them to about an inch-and-a-half instead and they'll cook just right. You can't leave them on for much more than six minutes per side, either, because the direct contact with fire will really char the meat after that point.
Give Caveman Steaks a try this summer. You can even use the leftover coals to prepare peppers and garlic with olive oil in a pan to use as a topping for the beef. You'll be the most admired griller in your neighborhood, and you'll treat your family and friends to an experience and a taste they'll never forget. Watch Steven do a demonstration of the entire technique.
Let the Local Food Journey know what you're planning to grill this Memorial Day, no matter what the ingredient or technique. It's time to get grilling … the best part of summer!
Find your local meat at the Penn State Meat Sale, Nature's Pantry in State College, Brenneman's Meat Market in Huntingdon, or Cow-A-Hen Farm at the Boalsburg Farmers Market.
Purchase The Barbecue Bible. Support WPSU
WPSU is now a member of Amazon's Associate program. When you make purchases from Amazon by following links from our website, WPSU will receive a portion of the sale with NO extra cost to you.

Buy The Barbecue Bible.
-or- Click here to support WPSU through any purchase from Amazon.com
Author: Sam Komlenic
Bio: Corporate Support, WPSU | Copy Editor for Malt Advocate, the Magazine for the Whisky Enthusiast | Cook About Town and Grill Freak