Posted by Jordan Reabold on 03/25, 2014 at 12:29 PM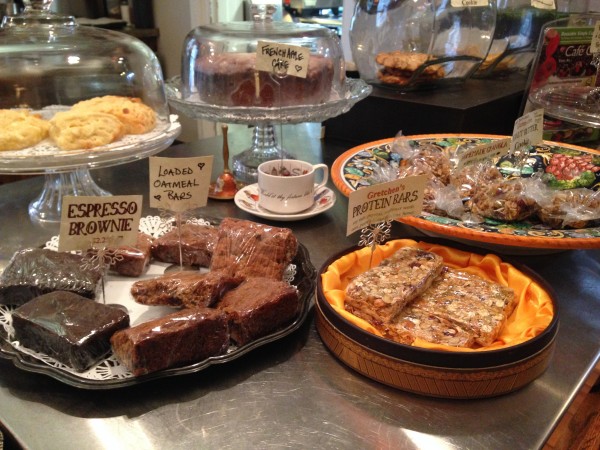 The ongoing debate for all latte-sipping, caffeine-craving coffee snobs (myself included) seems to be "which is better?" Starbucks or Dunkin Donuts? Coffee has become a necessity for so many people; we wake up, skip breakfast, grab a cup of joe to go, and get on with our day. But if you're tired of the Starbucks employees misspelling your name, or the line at Dunkin Donuts has you fed up, try a change of pace at Café Lemont. After all, owners Michael Beck and Jodi Hakes McWhirter make it a point to stand out from the rest. "There really isn't any other place quite like ours around."
While Café Lemont is unique for its special events and entertainment away from the downtown State College bustle, what makes this café special is its menu. Starting with coffee, they roast organic beans on a weekly basis, and their tea is specially blended with loose leaves by Pantheon Teas, a business nearby. If that isn't enough to pique your taste buds, their menu features light breakfasts and lunches made with ingredients from several other local businesses including Meyer Dairy, Green Heron Farm, Hogs Galore, Ye Olde College Diner, Gaffron's Sunrise Bakery, Suzie Wong's, and Belladonna Herbs. "All the rest is made from scratch by us," Michael said.
Why local? "We aim to be a thoughtful, community-minded business and want to support our locals," Jodi said.
While many other restaurants and cafes that use local ingredients experience struggle during the winter months, Café Lemont offers items that easily comply with a change in season. "Mostly, the vegetarian quiche changes depending on the vegetables in season, and same with the soups. We also have more creamy soups in the cold months and more brothy soups in the warm months," Michael said.
Otherwise, foods including meats and baked goods are offered year-round. "We have good relations with those we work with. Not only are the products of superior quality, but it's also just the neighborly thing to do," Jodi said.
We've all heard the cliché, "you get what you give," and Café Lemont is proof that such is true; they make fresh food for the community, and the community gives back to them. "We have the best customers and they keep growing," Michael said "We are thrilled to put that smile on our customers' faces and to create a place where people can be comfortable, strike up a conversation, and maybe come up with some good ideas for our community in the process."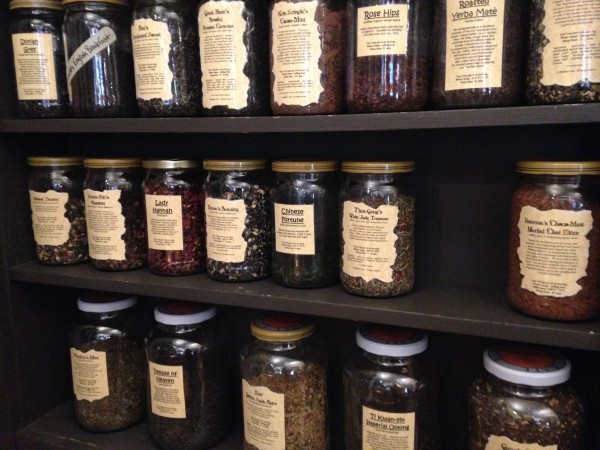 Cafe Lemont is a tea lover's dream, offering a wide selection
In just three and a half years, Café Lemont has built a strong customer base, and it's getting bigger with the start of every season, despite both indoor and outdoor seating. So much, in fact, that they are looking to create more parking. Michael and Jodi's success comes from all aspects of their business, but what I admire most about them is their willingness to improve even further. "Constantly re-evaluating how we do things, how we train our employees, and getting feedback from our customers is very important to our survival." Jodi said.
Not to mention, Michael and Jodi are conscious of businesses similar to Café Lemont, and they make note of certain aspects that advance a café's success. "We have always loved and sought out an exceptional espresso drink from local cafes, and now we have our own available…Even when we travel, we will drive the extra miles to find a good local cafe to experience," Jodi said.
They happen to be customers themselves, so Michael and Jodi serve to give people what they want, and it has created a trustworthy environment. "We strive for consistency and quality and hope to create an exceptional experience for our customers," Michael said.
I am one to appreciate the quaint, friendly atmosphere of a small town coffee shop, but one that supports other businesses is often rare—not to mention one that also has psychic readings, live entertainment, and art displays. There's no telling what they'll come up with next, but I'll be sure to stick around for it, along with Café Lemont's countless other customers. I think it's safe to say Michael and Jodi appreciate those who recognize Café Lemont's distinctiveness. "It makes it really worthwhile when you get the kind of positive and welcoming feedback from the community that we've received over the past three and a half years. We love it here," Michael said.
Author: Jordan Reabold
Bio: Tamaqua, Pennsylvania native - English major at Penn State - Loves cupcakes, coffee, and campfires"