Posted by Christina Barkanic on 03/25, 2011 at 05:34 PM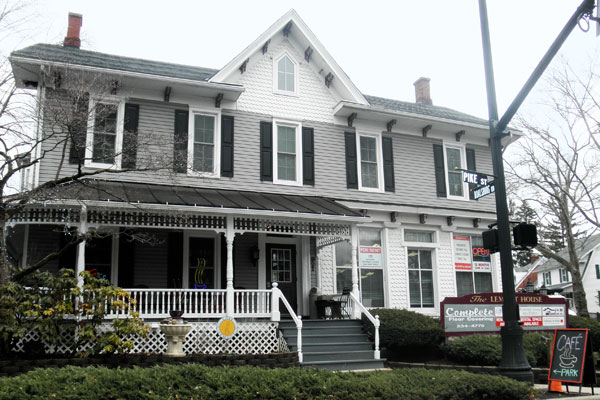 In the small town of Lemont, just minutes outside of State College, sits an enchanting Victorian house that is home to Café Lemont. With its inviting front porch and charming exterior, Café Lemont had exceeded our expectations before we entered.
As soon as Erin and I walked into the coffee shop, we were hit with a whiff of fresh coffee and pastries. We walked right up to the large menu hanging on the wall—the menu choices seemed endless. For such a quaint coffee shop, Café Lemont has a very extensive menu, including muffins, pastries, cookies, quiches, sandwiches, soups, and salads. The coffee and drink menu is also vast from teas to espressos and cappuccinos to lattes in nearly every flavor. How could we choose just one thing?
We decided that sharing items would be our best bet. I ordered the Egg and Pesto Sandwich and a Chai Tea Latte. Erin got the Strawberry and Banana Latte and the Snack Plate, which included roasted red pepper hummus, crackers, olives, grapes, carrots, and cheese. Although the Snack Plate offered a great assortment, Erin and I both agreed that the Egg and Pesto Sandwich ranked as one of the best sandwiches we've ever tasted. After our first bite into that sandwich, we were happy and satisfied customers.
Following lunch, we entered the sitting area of Café Lemont, which was filled with chattering friends and people working on their laptops. This sitting area is decorated so beautifully. It has wall-to-wall pine hardwood floors and comfortable vintage-style seating. The icing on the cake for this room, though, is the delicate rice-paper umbrellas that hang from the ceiling.

What sets Café Lemont apart from other coffee shops is its dedication to the local community. In addition to selling locally made baked goods, Café Lemont supports local artists and musicians. Their coffee is served in beautifully handcrafted Charles Hughes Pottery mugs, and they have live entertainment by local musicians every month. Also, the walls of the café are decorated with paintings and artwork created by local talent.
Owners Michael Beck and Jodi McWhirter aim to make Café Lemont an "eclectic and socially-conscious coffeehouse." Judging by our experience at Café Lemont, they are definitely succeeding.
Author: Christina Barkanic
Bio: Christina is a senior at Penn State majoring in broadcast journalism and minoring in sociology. She has a passion for journalism, the outdoors, good food, and good company. Ideally, she would like to combine all four by producing her own nature meets organic cooking show one day.