Posted by Emily Wiley on 09/24, 2010 at 03:21 PM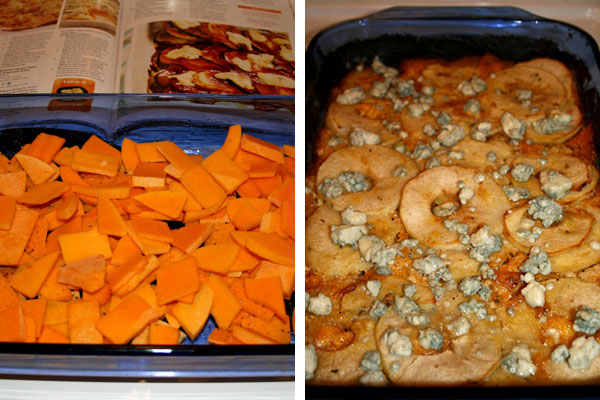 Here's a recipe to add to your autumn arsenal. It's tart and tangy and pairs well with slow-cooked pork and sweet pumpkin ale.
Ingredients
2 1/2 Tbsp Wegmans basting oil, divided (or olive oil plus your favorite herbs)
3 cups butternut squash, sliced into 1/8-inch thick pieces
salt and pepper to taste
1/4 tsp ground nutmeg, divided
1 1/2 cups heavy cream (substitute half and half for a lighter version)
2 medium Granny Smith apples, cored, peeled, thinly sliced (about 2 1/2 cups)
3 oz Gorgonzola cheese
Directions
Preheat oven to 350 degrees.
Rub 1 1/2 Tbsp basting oil into a 2-quart shallow casserole dish. Place casserole dish on a baking sheet.
Cover the bottom of the dish with a layer of squash. Season with salt and pepper and half of the nutmeg. Repeat with remaining squash; season with salt and pepper and remaining nutmeg. Pour heavy cream over all.
Bake for 30 minutes, then remove from the oven. Press the squash/cream mixture using a spatula, and return to oven. Bake 10 minutes more, then remove.
Toss apples with 1 Tbsp basting oil in a small bowl. Cover the top of the squash mixture with single layer of apple slices, overlapping slightly and pressing apple slices gently into creamy mixture with a spatula.
Return casserole to the oven. Bake for 45-50 minutes, or until squash and apples are tender. Remove from the oven.
Top with dollops of Gorgonzola, and let the cheese melt before serving.
(adapted from Wegman's)
Author: Emily Wiley
Bio: WPSU Multimedia Producer | Wife and Mother | Lover of Food and Photography | One-Half of The Culinary Couple