Posted by Jamie Oberdick on 09/16, 2011 at 01:51 PM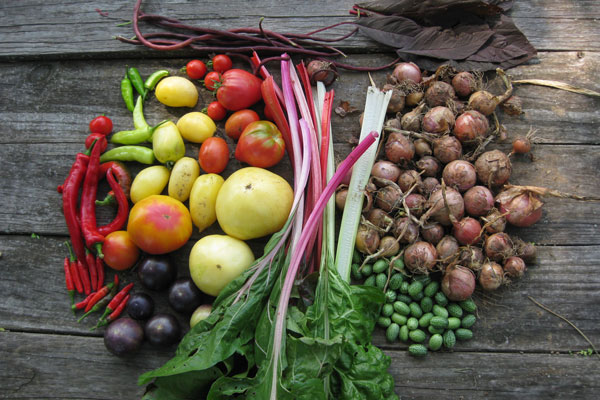 Just 20 years ago, the selection of produce was nothing like it is today. Iceberg lettuce, round red tomatoes, green bell peppers, regular orange carrots, and plain potatoes ruled the supermarket shelves.
However, today the expansion of the American palate is quite evident. Sushi is found in supermarkets. An imitation of a latte can be found at a convenience store. Ethnic restaurants such as Indian, Thai, Austrian, and Korean can be found in central Pennsylvania. And the broadening selections for the home chef have expanded culinary horizons, as well.
Supermarkets have definitely expanded what they sell—take, for example, the wide range of salad greens available in the produce department. While this is great, you can also add things to your home dinner table that you can only get from Community Supported Agriculture (CSAs), farmers markets, and backyard gardens.
I am not part of a CSA, but friends who "subscribe" to them describe quite a variety. On occasion, I even hear of things I grow in my backyard garden being offered, such as the incredibly delicious Jimmy Nardello pepper, a favorite of mine from Slow Food USA's Ark of Taste. CSAs are also great sources for unusual heirloom tomatoes, unique Asian vegetables, and other great tastes to add to recipes.
Farmers markets are another source. Who doesn't love a good farmers market? There is a social aspect to the markets—you can actually meet the people who grew the food (you can do this with CSAs, too). You can also get items such as fresh eggs that are better than those found in supermarkets, fresh-made cheeses, apple cider, and much more.
When you go to a farmers market, be sure to try something new. Ask the person at the stand about it, what it tastes like, and how you might use it. Take along your smartphone, if you have one, to look up a few recipes. For example, I recommend Amish neck pumpkins or crookneck pumpkins, which look like stretched-neck butternut squash, for pie and soup.
Finally, if you have a garden, you really have a lot of options. Just take a look at any garden catalogue—there are hundreds and hundreds of varieties to try. On a personal level, I have grown things that I haven't found in any market like Mexican sour gherkins, Country Gentleman corn, purple tomatilloes, edible gourds, orangeglo watermelons, and giant cape gooseberries.
Next year, when you get your seed catalogues, try something new, like a different kind of cabbage or a new tomato. It often pays off. It seems my wife and I grow a new favorite tomato every year.
If you want to broaden your culinary horizons, you don't need to travel overseas. You just need to go to a local farmers market, join a CSA, or walk into your backyard garden.
Author: Jamie Oberdick
Bio: Editor, Local Food Journey | Passionate about supporting local food in Central PA