Posted by Local Food Journey on 01/23, 2015 at 03:06 PM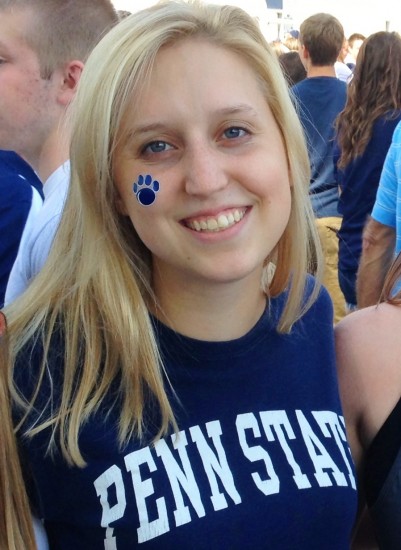 Local Food Journey has a new writing intern, Emily Edling. She's a Penn State English major, and is also a vegetarian. Her first contribution to Local Food Journey is a piece on her experiences being a vegetarian in State College.
Being a vegetarian can be difficult regardless of where you live. When I first made the decision to give up meat I was in my hometown of Boyertown, PA, where I was struggling to find options that were both delicious and adequate substitutes to meat. Along with this, I also had the burden of enduring endless discussions with friends and family members in defending my choice to abstain from meat, in assuring them that it doesn't offend me when they eat meat, about where I am getting my protein from, and so on.
When I returned to school in the fall, I expected things to go the same way they did while I was home, but what I found was that things became much easier for me in State College. I still had to defend my choice of being vegetarian to my friends for the first few weeks, but the freedom that I found in finding new ways to eat vegetarian made this seem to be just a small inconvenience.
For that first year as a vegetarian, I lived on campus and so was reliant on the meal plan. There are definitely options for vegetarians in the dining commons, but they are far less than the meat options and they are not always as satisfying. Some days I would find myself constructing full meals of just veggie sides because the offered entreé was either lacking or nonexistent and the always reliable salad bar was leaving much to be desired. This variability of dining commons led me to further investigate the vegetarian options offered in the downtown restaurants.
I was surprised to find that almost every restaurant downtown offers some sort of vegetarian option on their menu. Some places are more veg-friendly than others, for example I found that Mad Mex offers much more vegetarian and vegan items than places like Chili's where the best bet to go meat-free is to just remove meat from an entreé, or in the case of burgers, substitute for a black bean burger.
I have heard several people say that State College is not an ideal place for a vegetarian to be living, but I would argue that. Being located in Central Pennsylvania, State College is not exactly the hub for vegetarian cuisine, but being a part of a college town has its benefits. The student body and faculty come from all over the world and so the surrounding community capitalizes on this by offering a wide variety of dining options.
Believe me, being a vegetarian is a day-to-day struggle even now that I've been at it for a couple years. I constantly have to plan out what I am going to eat and have to be conscious of where I am going out to eat and the available veg options for me there. State College has been an interesting place to grow into a veg head with many dining options and also many options for leading a vegetarian lifestyle in local grocery stores and markets.
Author: Local Food Journey
Bio: An exploration of what it means to eat local