Posted by Emily Wiley on 10/22, 2010 at 04:49 PM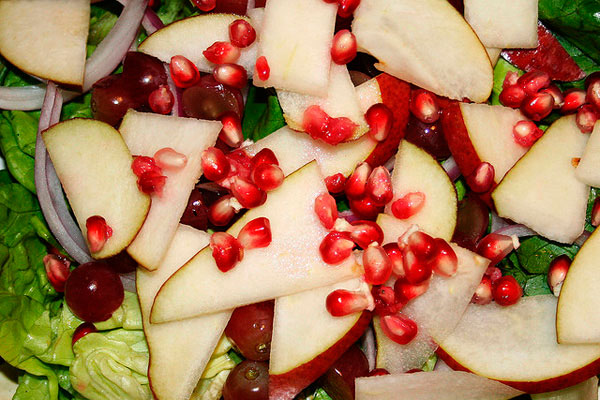 This salad recipe is easily adaptable to include your favorite fall fruits: apples, cranberries, grapes, pears, or pomegranates. Drizzle the warm, sweet dressing on top and garnish with blue cheese and pecans for a simple weeknight dinner.
Ingredients for Dressing
3/4 cup balsamic vinegar
1/2 cup extra virgin olive oil
6 tablespoons brown sugar
salt and pepper to taste
Ingredients for Salad
1 pound butter lettuce
1 pomegranate, seeded
32 grapes, halved
1 large red onion
1/2 cup blue cheese
4 red pears, sliced
1 cup pecans
zest of 2 oranges
Directions
Combine dressing in sauce pan until sugar dissolves. Assemble salad and pour dressing on top.
Author: Emily Wiley
Bio: WPSU Multimedia Producer | Wife and Mother | Lover of Food and Photography | One-Half of The Culinary Couple