Posted by Anna Lombardo on 07/09, 2015 at 02:13 PM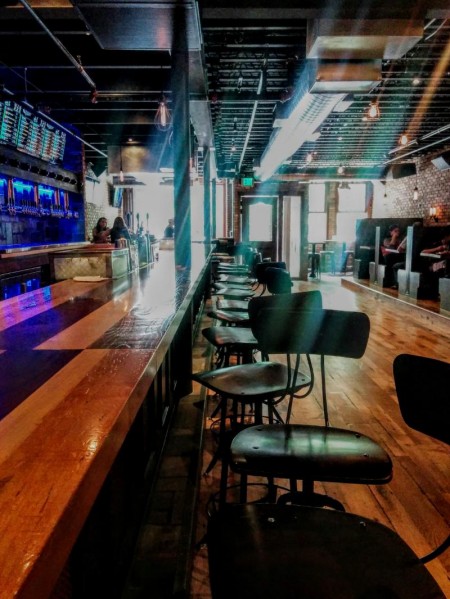 If you've visited any one of a number of popular restaurants in State College—including, but certainly not limited to, The Deli, The Saloon, and Bar Bleu—then you've had a taste of the Dante's Restaurants and Nightlife experience. Since the founding of Hi Way Pizza, which opened over 50 years ago under the precocious expertise of Andrew Zangrilli, Dante's has seen significant growth in town, most recently with the establishment of Liberty Craft House at 346 E. College Avenue. Since its opening in February of this year, managers J.P. Mills and Jennifer Zangrilli report that business has been "nonstop," news they shared with much satisfaction and maybe a hint of exhaustion.
I soon understood the fatigue, as Mills and Zangrilli related to me what they called the sometimes "painstaking" efforts that go into putting together and running a place like Liberty. From the brickwork that lines the front of the restaurant (the bricks come from Chicago); to the iron railings surrounding the outdoor seating area (they were re-purposed after originally being used in the former location of another Dante's establishment); to meats and cheeses that the Liberty staff cuts to order (neither is ever pre-cut, and the restaurant does not use auto-cutters); Liberty explicitly takes pride in their "passion for knowledge, skill, and small-batch artisan goods," no matter what it might cost them in weariness.
Such a claim to authenticity might easily be overlooked or ignored in an age of chain restaurants (ones who often employ the same rhetoric), but it would be wrong to do so in the case of Liberty. I'll start with drinks, like a date: the restaurant boasts an incredible draft system, through which they not only serve 32 different types of ales and lagers (most of which are locally brewed—you won't find many familiar brands on tap here), but also six types of wine, and three continually rotating cocktails. The system allows each individual draft line to dispense its respective drink at the correct serving temperature and gas blend, meaning that Liberty can ensure the correct quality and texture of two completely different drinks being poured from adjacent faucets. Bottled beers are stored in various coolers that maintain temperatures appropriate for the beers that they hold. Temperature, gas blend, even type of ice (Liberty has four, depending on what you're drinking) are all factors that, Mills stresses, affect the quality of a drink. At Liberty, he said he pays attention to these things because he wants the drinks to taste the way that they should.
Liberty devotes the same amount of care and attention to its food as it does to its drinks. The restaurant offers a "seasonally inspired menu," making use of ingredients that come from local sources. All pork products, for example, come from Hog's Galore in Philipsburg, and Liberty has actually partnered with the company to design their own meat recipes, which Hog's Galore produces specifically for them. Recently, they've been acquiring baby arugula from Tait Farm, as well as other salad fixings. Doughs, like the ones used for pizzas at Mario's (another Dante's company), are made from scratch at Dante's two commissaries. These commissaries receive orders from the various Dante's restaurants and hand-make the necessary amounts overnight, delivering them where they are needed in the morning. It is worth noting that, after having put all of its ingredients together, Liberty serves its dishes in a "tapas" style—that is, in small quantities, meant to be shared by those sitting around the table.
Liberty constantly seeks out new partnerships with local food vendors, and Zangrilli tells me that they hope to keep as many of these purchases within Pennsylvania as they can. There are, however, some exceptions. Lemons don't fare well in Pennsylvania, so they must look outside of the state to buy them. Collectively, the Dante's sites use so many tomatoes that local producers would literally be unable to keep up with the demand. But unless the circumstances require it, Liberty sticks to, and in fact builds their menu around, local products. Mills told me that, though they have received praise for their commitment to buying foods from the surrounding community, they have not had to change their practices in order to accommodate the "new" trend of purchasing locally. "It's what we've been doing," Mills said. "We've always made things from scratch."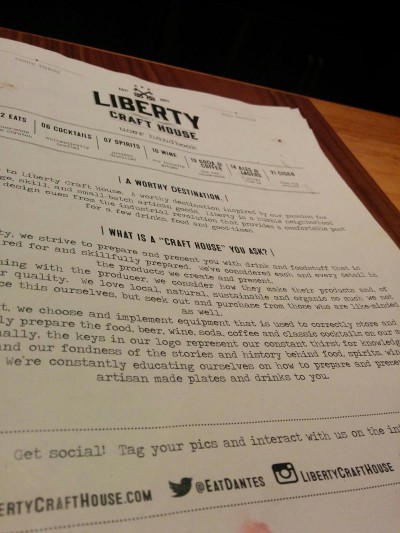 Indeed, he continued to tell me that when Andrew Zangrilli began Hi Way Pizza in 1963, mass food production did not exist in the way that it does today, or much at all. There was no choice other than to seek out foods from nearby sources. While Zangrilli says this can make for a "transient" state of things, and that doing so "can be a pain," this is one of Liberty's goals. Not to cause themselves pain, but rather to put together and perfect all of the know-how and experience—specifically related to buying local, quality ingredients—they have accumulated in running other Dante's restaurants. Liberty's symbol is a set of keys, which Mills and Zangrilli explain to me represents knowledge. They called the restaurant a "culmination of existing knowledge and passions," and said that "know-how from former locations," in addition to the many industry connections that Dante's has formed over its years of operation, informs what they put on your plate or in your glass at Liberty.
They continually seek new knowledge as well, in whatever ways they can. When, for instance, they were trying to decide which types of cheese to serve at the restaurant and how best to serve them, they didn't choose just any old cheeses and throw them together on a platter. They instead journeyed to Murray's Cheese, in New York City, to learn everything they could about the stuff and to become "Murray's Cheese UⓇ educated cheese mongers" (a term that appears on their menu). Now, having been informed, they can inform those who work at Liberty, and in turn those who consume the cheese that the staff at Liberty has learned to prepare. Zangrilli says that they very much have a passion for sharing the knowledge that they have acquired.
In fact, the pair expressed interest in offering events that teach the public about certain types of food and drink. Mills and Zangrilli, respectively experts in beer and wine, hope to hold events concerning their subjects of expertise. It will come in handy that Liberty, which is larger than it looks from the outside, has a raised platform area in the back that holds up to 20 people and will conveniently serve as the location for cooking classes; on the weekends, this same space will be used for live music. Liberty has what seems like an endless amount to offer, and much of it I haven't been able to detail in this article. A cold-brewed nitrogenized coffee that conveys the texture of a stout, a selection of rare American whiskies…well, maybe check the place out for yourself next time you're looking for a dose of authenticity.
Author: Anna Lombardo
Bio: Suburban Philadelphian English major at Penn State Avid learner, runner, and eater