Posted by Jamie Oberdick on 05/28, 2013 at 05:07 PM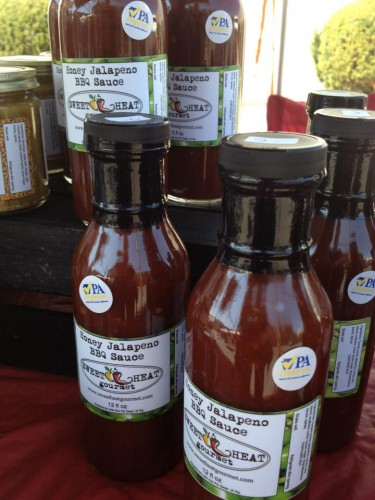 This edition of At the Dinner Table (a conversation with someone involved with local food), is with Shellie Mierwald, founder/owner of Sweet Heat Gourmet, a State College-based sauce company that uses local vendors for the ingredients.
How did you get your start making hot sauce?
I got started after I graduated from culinary school in 2011. I went back to get my degree after putting my husband through college and raising our children. When I graduated from college, I knew that I didn't want to work to further someone else's dream. I thought about opening a restaurant, but I knew there was too much capital to raise, and it was too risky.
Did you do it as a hobby first?
I did! I had started canning the summer before, I bought ingredients at the farmers' markets and canned them for the winter. The following spring, I started making hot sauces and BBQ sauces for friends and family. I kept hearing "you should sell these!" and that's when it all fell into place, making sauces with products from the market.
What are some of your products and what makes them unique?
Some of the hot sauces we sell are Pineapple & Ghost Pepper Hot Sauce, and Sinclair's Fatalii Hot Sauce. Some of the BBQ sauces we sell are Apple Bourbon BBQ Sauce and Bulgogi Asian BBQ Sauce. What sets them apart is we use as much local ingredients as possible, which I believe that alone sets the flavors apart. Local food just tastes better. And I really enjoy using ingredients and giving them a twist that you won't find anywhere else. I also use local ingredients as they come into season, so our inventory changes with that. For example, we make a Grilled Peach BBQ Sauce with local peaches. When they come in season, we make it, and when it's gone, it's gone!
One small back story on the Sinclair's Fatalii hot sauce that we love to tell, we have a customer at the North Atherton market, he was about 10 or 11 at the time, and he told me that he was growing a pretty hot pepper, fatalii's. I told him after he grew them, to bring them to me and I'd make a hot sauce. He did, and we made the sauce. We gave him back a few bottles, his mother had sent us a picture, so we used the picture and his name on the label. We had a small amount left over, and my husband brought it to work. Everyone LOVED it. So, we started making the sauce, and with his mother's permission, we named it after him, hence, Sinclair's Fatalii Hot Sauce. One of the people that did a youtube review of the sauce mentioned the story, so it's been pretty cool.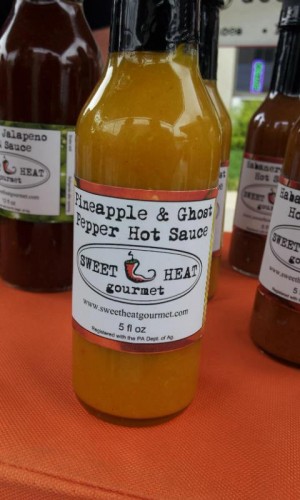 Why do you think it's important to use local stuff as ingredients in your sauces?
The main reason is I believe people should get to know where their food comes from. Go to the farmers' markets, talk to the people who grow your food. Ingredients travel from an average of 5 different countries to reach the American plate. The food travels an average of 1500 miles to reach your plate, and is in transit from 7-15 days. When you purchase food from your farmers' market, the food is local. Your money supports the farmers directly. A lot of them offer CSA's (crop sharing) both with meat and produce. A lot of people believe that shopping at the farmers' markets is more expensive. It's not! When you take part in a CSA, your food can cost up to half of what it costs at the store. And a lot of CSA's are striving to bring you a variety of vegetables and fruits, so you don't end up with more of one ingredient that you won't use much of.
Beside all that, I truly believe that the ingredients that are fresh from the farm taste better. Much better. You can taste the ingredient as it was intended. We don't use any preservatives in what we make, we really try to highlight the ingredients so you can taste the difference between a locally grown product, and one that's from a grocery store. Go to your markets and support the local farmers, talk to the people who are growing your food. It makes a big difference not just for you, but for your community also.
What are some examples of local vendors that you use for ingredients?
We are making a gluten free, dairy free pesto right now. We had a Morel Mushroom Pesto, but we sold out this week. However, our Farmer's Market Pesto, we have ingredients from Clan Stewart Farm, Greenmoore Gardens, Jade Family Farm, and Full Circle Farm. All of our hot sauces are made with super hot peppers grown in State College from Exotic Peppers. Mel and Pablo, who run the business, grow the peppers here, and we are huge supporters of them. We also get a lot of produce from Chuck and Marie from Mothersbaugh Farm, and we get apples from Way Fruit Farm. What we do is go around toward the end of the market, and see what's in season and talk to the farmers and buy what we can that they've brought to the market. Some of the farmers this year, such as Clan Stewart and Mothersbaugh, asked us what in particular we'd like to have grown, and are growing plants specifically for our products, which is pretty cool!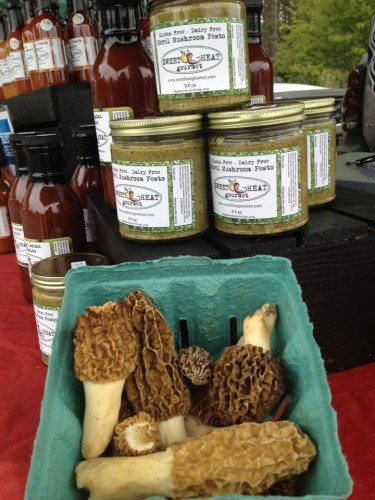 What are some recommendations for uses of your products (any recipe you can offer would be a bonus)?
The pesto is an easy one! If you buy the Farmers' Market Pesto, not only are you supporting a lot of the local farms in one fell swoop, you can also get your meal right at the market! Buy a pound of pasta from Fasta & Ravioli Co., pick up a bottle of wine from Bee Kind Winery or Happy Valley Vineyards and Winery. We had the pesto last night on Fasta's egg fettuccine, delicious and quick! You can also find meat vendors selling chicken, beef, veal, goat…the possibilities are endless. Here's a recipe you can use with our Roasted Red Pepper & Maple BBQ Sauce:
SMOTHERED PORK SHOULDER AND GARDEN POLENTA (most of the ingredients can be purchased locally)
The person who deserves credit for this recipe is Chef Paul Mach from the Pennsylvania College of Technology where I went to school.
7 lb. Pork butt, cut into 8 portions 1/4 c.
Garlic, cloves, peeled and trimmed 1/4 c.
Fresh oregano, chopped 2 tbsp
Seasoning salt 1 tbsp
Ground black pepper 1 ½ c
Sweet Heat Roasted Red Pepper & Maple BBQ Sauce
Water to cover pork ¾ of the way
1 c Poblano peppers, seeded and medium dice
1 c Red Bell Peppers, seeded and medium dice
2 c Purple onions, medium dice
1/4 c. Olive oil 4 c.
Water or pork cooking liquid 1 c
Ground cornmeal 2 tsp
Seasoning salt 1 tsp
Ground black pepper
1 c Sweet Heat Roasted Red Pepper & Maple BBQ Sauce
Season the pork butt with the garlic, oregano, salt pepper and the BBQ sauce. In heavy oven proof pan, place the pork and water to cover ¾ of the way. Bake covered at 325°, turning the pork after every 1 hour interval, until the pork is very tender. Some of the liquid should reduce from the pan. Carefully remove the pork pieces from the cooking liquid and hold warm. The cooking liquid may be poured into a narrow pan and skimmed to remove the fat, then used as a sauce to keep the meat moist. In a large saucepan over high heat, sauté the vegetables in the olive oil, stirring until the brown lightly and are partially cooked. Add the water and bring to a simmer. Whisk in the cornmeal, stirring so that it will not lump. Lower the heat and simmer for 3 minutes. Season with salt and pepper. Serve a portion of the polenta topped with a portion of the pork, topping it with fresh BBQ sauce, or with as much of the cooking liquid BBQ sauce as you desire.
Where can people find your products?
You can find our products at both the Fasta Pasta & Ravioli stores, one in downtown State College, one in Pleasant Gap; Contempo Jewelry in Boalsburg; and Gift Adventure downtown State College. You can find it out of state at Hunt Country Vineyards in Branchport, NY, and Some Like it Haute in Ft. Lauderdale, FL. Also, check our website at http://www.sweetheatgourmet.com to find out what events you'll be able to find us at, as well as on Facebook, http://www.facebook.com/shgourmet. You can also order products on our website to be mailed.
Anything else you'd like to add?
I worked with Linda Feltman at Penn State's Small Business Development Center. I literally would not be doing what I'm doing without her help. She has become a mentor and personal fiend. Their services are free, and they were key in helping me launch my business. One last thing I almost forgot to tell you…people sometimes think that all of our products are spicy. I'd say about half of them have no spice at all. Just wanted to mention that, thanks!
Author: Jamie Oberdick
Bio: Editor, Local Food Journey | Passionate about supporting local food in Central PA