Posted by Christina Barkanic on 04/06, 2011 at 05:39 PM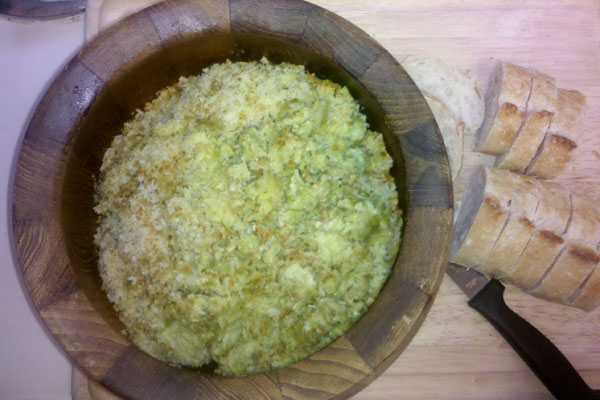 Now that April is upon us, it means that asparagus is coming into season! This dip is a quick and easy way to utilize this versatile vegetable.
Ingredients
1 bunch fresh asparagus (approximately 14-18 spears)
1 jar artichoke hearts
3 cloves fresh garlic
1 1/2 cups Parmesan cheese
1 1/2 cups mayonnaise
Breadcrumbs (optional)
Salt and pepper to taste
Directions
Wash and drain asparagus. Then steam the stalks for about 10 minutes. Meanwhile preheat the oven to 350 degrees.
Cut asparagus into small pieces and mash them. Place them in a bowl with artichoke hearts, mayonnaise, minced garlic, and Parmesan cheese. Mix well; add salt and pepper to taste.
Pour into a baking dish, and sprinkle with breadcrumbs. Bake for about 20 minutes.
Enjoy this hot, seasonal dip with hearty sourdough bread or crackers!
Author: Christina Barkanic
Bio: Christina is a senior at Penn State majoring in broadcast journalism and minoring in sociology. She has a passion for journalism, the outdoors, good food, and good company. Ideally, she would like to combine all four by producing her own nature meets organic cooking show one day.