Posted by Jamie Oberdick on 09/21, 2017 at 12:24 PM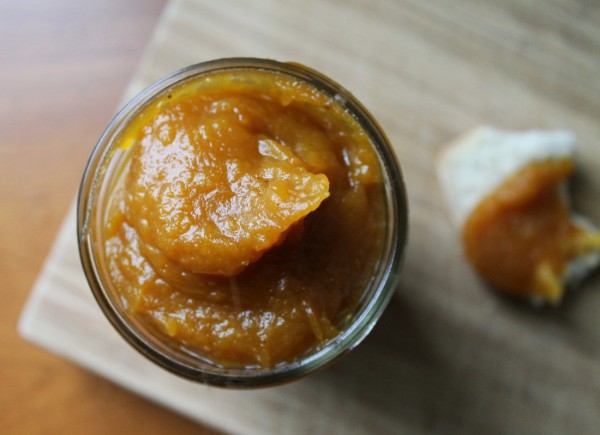 Ardry Farms in Howard is well-known by farmers market fans, as well they should. They have been a farmers market presence in Central Pennsylvania for more than 80 years, selling a wide variety of local produce and wonderful baked goods.
This time of year, you can find pumpkins sold by them at North Atherton Market, Bellefonte Farmers Market, and Boalsburg Farmers Market, including varieties that are good to eat. Along with pies, you can also make other tasty things with pumpkins, including pumpkin butter. Many people rave about Trader Joe's pumpkin butter, but Andry Farms has a recipe for it that is even better than ol' TJ's. And, it's very easy to make!
Here's the recipe…enjoy!:
Ingredients
1 pie pumpkin or 15-16 ounces of pumpkin puree
1/3 cup maple syrup
1 tbsp orange or lemon juice
1/4 tsp cinnamon
1/8 tsp cloves
​pinch salt
Method
If you are making your own pumpkin puree, preheat a conventional oven to 400 F. Cut the top of a pie pumpkin off to remove the stem and then cut the pumpkin in half. Remove the seeds and stringy innards and place it flesh side down on a baking sheet. Roast the pumpkin for 45 minutes to 1 hour until very tender. Let cool at room temperature until the pumpkin is easy to handle.
Scrape the flesh away from the skin and weigh out 15-16 ounces. Otherwise, open a 15 ounce can of pumpkin puree. In a blender or food processor, combine the weighed pumpkin flesh and all of the remaining ingredients and process until very smooth. Taste and add more syrup if you like it sweeter.
Transfer the mixture to a heavy bottom pot. Stir the pumpkin butter constantly over a medium low flame for 20-25 minutes until thickened. Take care to stir continuously, otherwise the mixture will bubble up.
​Let cool and store an airtight container in the fridge for up to 1 month. Pumpkin butter also freezes well.
To learn more about Ardry Farms, please go to their website
Author: Jamie Oberdick
Bio: Editor, Local Food Journey | Passionate about supporting local food in Central PA