Posted by Michele Frank on 09/01, 2010 at 05:53 PM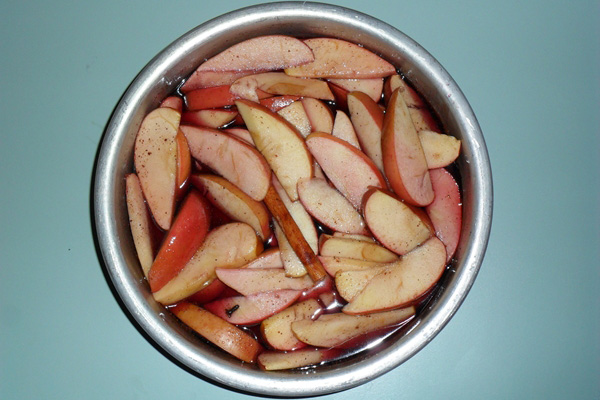 I have never enjoyed the overwhelming sweetness associated with desserts. When I was a little girl, my mother made this apple dish so I wouldn't feel left out during dessert time. To this day, I have been working to recreate her recipe, and I think this is as close as I will ever get. It is a little tangy and a little sweet, just perfect for those of us who like a little bite to our desserts.
Ingredients
4 red apples (I prefer Gala)
1 1/2 cups sugar
1 teaspoon nutmeg
1 cup dry red wine (I used Nittany Mountain Red from the Mount Nittany Vineyard & Winery)
1 cinnamon stick
2 whole cloves
Butter to line the pan
Whipped cream for serving
Directions
Preheat the oven to 350˚. Line the sides of a large baking pan with butter.
Slice the apples into medium-width pieces, leaving the skin on. Put them directly into the metal pan.
In a medium size bowl combine the sugar, nutmeg, and red wine. Whisk well and pour onto the apples. Place the cinnamon stick on top and tuck the cloves into the apples. Cover with foil and bake for 30 minutes.
Once the apples are out of the oven, remove the foil. Let the dish cool for approximately 10-15 minutes. Serve with sauce from the pan and top with whipped cream.
Author: Michele Frank
Bio: Michele is a senior at Penn State majoring in print journalism. She loves to cook for her friends and family, and wishes to make a career out of her hobby. She spent last summer working for Gulfshore Life Magazine in Naples, Fla.