Posted by Jamie Oberdick on 09/22, 2015 at 12:34 AM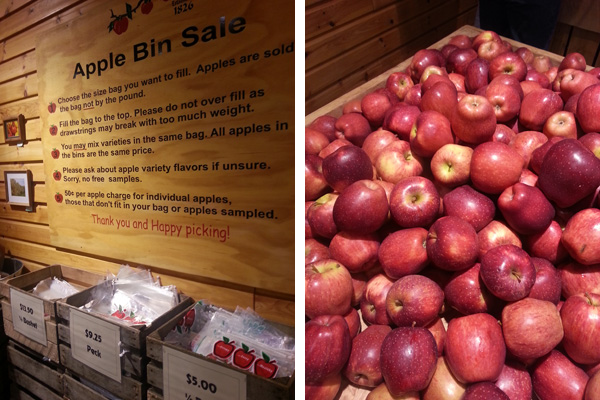 I'm from York, PA, which is most definitely part of Pennsylvania apple country. I remember as a kid getting pretty excited about this time of year, because I loved and still love apples. September was the beginning of apple season at the many orchards that dot York, Adams, and Lancaster Counties. I remember the apple cider flowing freely, both the "soft" and "hard" variety (including a variety of moonshine called "apple jack" that I discovered as a grown-up).
There were even apple-focused festivals. My family would drive to the South Mountain Fairgrounds in neighboring Adams County for the Apple Harvest Festival, which attracted thousands of people each October. For an apple lover, this was high paradise time.
Another aspect of my childhood in York was being introduced to Greek culture, via new neighbors from Greece that began showing up when I was in middle school. My Greek friends introduced me to Greek food, including a strange, crumbly cheese I had never seen before…feta.
I instantly liked the somewhat smelly, tasty cheese. Years later, at a Greek restaurant in Pittsburgh, I had a salad of apples, nuts, and feta, dressed with lemon juice. To me, it was a perfect combination of two childhood favorites, Greek feta and good old-fashioned Pennsylvania apples.
I've tried to replicate this salad, and came up with a recipe that comes fairly close with a few adjustments. It makes a very nice side dish with a sandwich at lunch or with your favorite main dish at dinner. Be sure to use, of course, local apples. There are many available options at local farmers markets and orchards. For this recipe, Honeycrisp is a great option but any sweet or semi-sweet eating apple will do.
Apple salad with feta
Ingredients
- 3 apples, cut into 1/2" slices
- 3/4 cup walnuts or almonds
- 1/4 cup fresh-squeezed lemon juice
- 1/2 cut chopped celery
- 1/2 cup crumbled feta cheese
- 1/4 cup thyme or parsley, fresh and finely-chopped
- 1-2 tablespoons of extra virgin olive oil
- Sea salt and fresh ground pepper to taste
Steps
- Heat a pan over medium high heat
- Pour nuts into pan, cook over medium high heat for 2-3 minutes, stirring frequently.
- Let cool, if using walnuts, chop.
- Combine all ingredients except cheese and oil in large bowl.
- Add cheese and oil, lightly toss
Serves 6-7
Author: Jamie Oberdick
Bio: Editor, Local Food Journey | Passionate about supporting local food in Central PA