Posted by Brittany Smith on 10/11, 2012 at 02:02 PM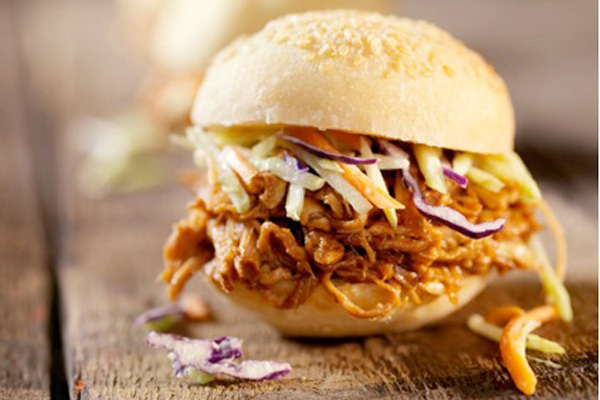 Second quarter, 30 seconds until the half, and the only thing standing between you and the end zone is your hungry belly. What better way to continue this season than by combining seasonal ingredients in a way sure to spike your taste buds
If you love fall and football as much as I do, check out this simple recipe for a sweet and tangy apple coleslaw that everyone will love. Serve it cold or atop your favorite pulled pork recipe to land an automatic first down every time.
Ingredients
1/4 cup cider vinegar
1 cup mayonnaise
1/3 cup poppy seeds
1/3 cup honey
2 teaspoons kosher salt
1 teaspoon freshly ground black pepper
1 medium cabbage, cored, finely shredded
2 large carrots, peeled, julienne
1 bunch scallions, thinly sliced
½ cup finely minced parsley leaves (optional)
4 Fuji apples, peeled, cored, julienne
Directions
In a medium bowl, combine cider vinegar, mayonnaise, poppy seeds, honey, salt, and pepper until well blended. Set aside.
In a large bowl, combine the cabbage, carrots, scallions, parsley, and apples. Pour in the previously made dressing and toss together until well blended.
Refrigerate at least 1 hour before serving, mixing the salad at least once to evenly distribute the dressing.

Test tip: Use the poppy seeds sparingly. 1/3 cup may be too heavy for your preferences. For extra zest, try adding red onion.
Author: Brittany Smith
Bio: Brittany is a senior at Penn State majoring in advertising. She loves food and flavors and trying new recipes. Her dream is to produce advertising content for the Food Network, and possibly one day attend culinary school and become a chef.