Posted by Jamie Oberdick on 02/05, 2016 at 04:07 PM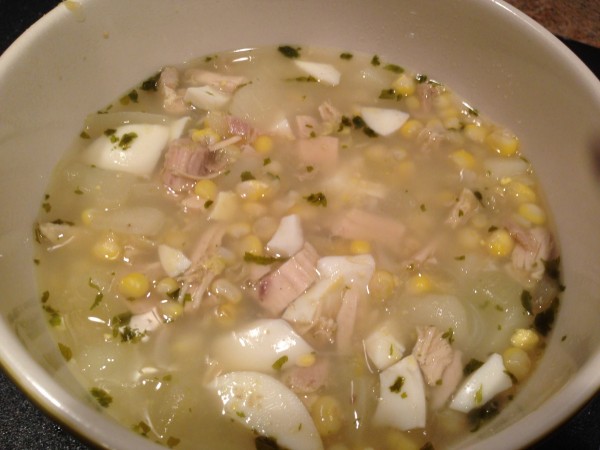 Growing up in York, I was exposed to a lot of Amish cuisine. My mother cooked a variety of Pennsylvania Dutch dishes, such as pot pie, pork and sauerkraut, and perhaps my favorite, chicken corn soup.
Believe it or not, chicken corn soup is considered a "summer soup." Made to take advantage of the bounty of fresh corn in southcentral and southeast Pennsylvania, this corn was a July-August staple in my house as a kid. My mother would make it year 'round, however, and I always looked forward to it. It's a simple soup, with subtle flavors.
Here's a recipe for this delicious soup. One thing…this is a recipe for the York County version of the soup. The Lancaster County version of the soup contains something called "rivels", which basically are little dumplings. If you want to add that, you can find a recipe for them online.
Chicken Corn Soup
Ingredients
- One whole frying chicken
- Six ears of corn, or two bags of frozen corn
- One onion
- Four medium potatoes
- Four eggs
- 1/2 cup chopped fresh parsley or two tablespoons dried parsley
- salt and pepper to taste
Steps
- Take chicken and put into large pot of water.
- Dice and add onion to pot.
- Add parsley, salt, and pepper.
- Bring to boil and set to simmer, until chicken is done and falls off the bone (about 1 hour).
- Remove chicken. Place chicken and soup in fridge or cold place to cool down, so you can skim off fat off top (optional)
- Hard-boil eggs, set aside to cool.
- Bring soup back up to boil and reduce heat to simmer.
- Pick chicken from bones, dice, and add to pot.
- Peel potatoes, dice, and add to pot.
- Peel eggs, and dice, add to pot (including yokes, as they will practically dissolve and add a nice flavor).
- Simmer soup until potatoes are soft, about 20-25 minutes.
- Serve hot with crackers. This soup is a meal unto itself but can be served with a favorite sandwich.
Author: Jamie Oberdick
Bio: Editor, Local Food Journey | Passionate about supporting local food in Central PA