Posted by Jamie Oberdick on 04/11, 2014 at 12:29 PM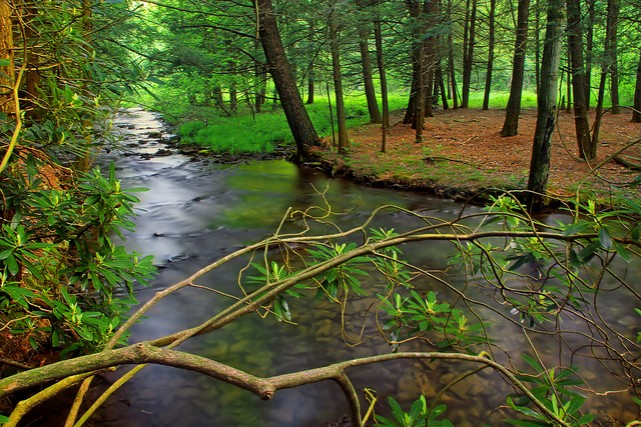 Tomorrow is practically a Central Pennsylvania holiday—first day of trout season! Our area is known across the country as a prime area for trout fishing, boasting legendary trout streams like Spruce Creek, Penn's Creek, Bald Eagle Creek, and Black Moshannon Creek. Saturday these streams will be filled with anglers trying their luck.
There are three different species of trout to be caught in our streams, including brook, brown, and rainbow, and all are quite tasty. This recipe allows the trout's flavor to stand more or less on its own, with assistance of two other tastes of spring, the grill and fresh local spinach.
Here is the recipe for Grilled Butterfly Trout Over Spinach (good luck tomorrow and hopefully you'll catch something that will allow you to try this recipe!):
Ingredients
- Four trout, scaled, gutted, no head, and butterflied with skin on
- Olive oil
- Garlic powder
- 3 tablespoons of finely chopped flat Italian parsley
- Salt and fresh ground pepper
- 1 lemon, halved
- 1 1/2 pounds fresh local spinach
- 1 cup slivered blanched almonds
- 2-3 cloves garlic, minced garlic
Steps
- Heat grill to high or set charcoal grill grid on lowest support.
- Brush trout with oil on all sides
- Sprinkle with garlic powder, salt, fresh ground pepper
- Turn stove to medium heat.
- In skillet, heat 2-3 tablespoons of olive oil and add minced garlic and almonds.
- Stir almonds/garlic frequently while cooking for 3-4 minutes, using care not to burn almonds nor garlic.
- Add spinach and toss, stirring until spinach is thoroughly wilted, and set aside, covering to keep warm
- Put trout on grill, skin side down, and grill for 3 minutes until skin is slightly charred
- Flip trout, and grill for 3-4 minutes or until just cooked through, using care not to overcook.
- Put a serving of spinach on a plate, place trout on top.
- Squeeze lemon over trout, and serve with a good potato salad.
Author: Jamie Oberdick
Bio: Editor, Local Food Journey | Passionate about supporting local food in Central PA