Posted by LacCreta Holland on 12/26, 2014 at 03:31 PM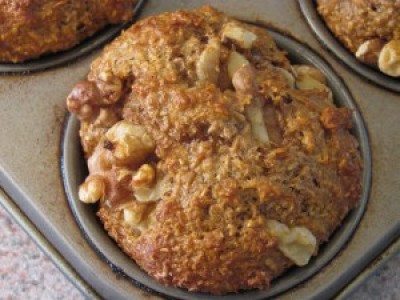 These bran muffins are dense. They are so good in that healthy sort of way. And after a holiday season with too much candy, we can all use some of these!

Classic Bran Muffins (from The Breakfast Book by Marion Cunningham)
Ingredients
2 ½ cups bran
1 1/3 cups whole wheat flour
2 ½ teaspoons baking soda
½ teaspoon salt
2 eggs
2/3 cup buttermilk
1/3 cup vegetable oil
1/3 cup molasses
1/4 cup honey
1 cup raisins
Steps
Stir together the dry ingredients and then stir in the wet. Add the raisins.
Spoon the batter into 18 greased (or lined) muffin tins. Bake at 425 degrees for 12-15 minutes.
I changed up the recipe a bit. I used 1/2 of the oil (eye-ball it: fill the 1/3 cup only 1/2 full–sorry I don't know the measurement–I'm a math looser and anyway, it's a fraction!) and used canola instead of vegetable. Then I added plain yogurt (about 1/3 cup) to moisten them up.
I added walnuts to the batter instead of the raisins for my wonderful hubby, who loves bran muffins. I also decreased the baking time to 10 minutes. Your oven my vary.
Want to buy some wheat of your own to grind? See the Village Pantry in Tyrone.
Author: LacCreta Holland
Bio: LaCreta Holland—views on life and food change when you have lived in Italy--believes that good smells from the kitchen make people happy---loves to teach people to cook through my business Happy Valley Learn to Cook