Posted by Kit Henshaw on 06/24, 2011 at 03:10 PM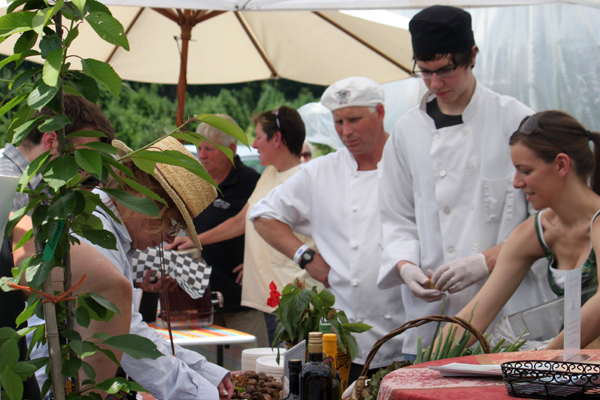 Solstice…the word conjures up visions of kicking back, chilling out and enjoying a long, lazy summer day. But on Saturday, June 18th at Tait Farm in Centre Hall, the crowd at the first annual Summer Solstice Celebration to benefit the Centre County Farmland Trust was actively engaged in the pursuit of tasting locally produced fresh delights while supporting a local farm. In a word, it was happy. People were relaxed, cooperative and neighborly – grateful for the weather, the scenery, the fresh farm air, the flavors, the sense of community, and the shared mission of local foods and farms.
We were there, serving the throng of an estimated 700 people of all ages, along with fellow local food and beverage purveyors (and Harrison's local partners): Mt. Nittany Winery, Otto's Pub and Brewery, and Elk Creek Cafe + Aleworks.
Our Solstice table, which featured foods to sample from seven of our local partners, was busy from 12:50pm until about 3:10pm when we ran out of food. We had prepared for about 400 people plus a bit extra just in case – having no idea we'd see such a great turn out! Our menu: Chef's Mac and Cheese made with Fasta Ravioli Company pasta, Goot Essa cheddar, and Meyer Dairy cream; Pennsylvania-Grown Marinated Mushrooms using Harrison's secret recipe; and Crostini featuring Gemelli bread with Three Bell Farm Chevre and Harrison's Fig & Olive Relish made by Tait Farm Foods.
And there was more going on than just simply tasting locally grown/produced/prepared foods, beers, wines, and new flavors of the Tait Farm classic shrub (try the lime – yum!). The Farmland Preservation Artists were scattered around the farm painting pieces to benefit the Centre County Farmland Trust. The basset puppies were out in force. Hayrides were offered. Information was provided by WPSU's Local Food Journey, PASA, and Buy Fresh, Buy Local. People willingly sorted their recyclables and compostables. Live music played near the green house. Produce from local farms was sold. And more.
What a perfect, beautiful Happy Valley celebration – a convivial "carnival for farm and local food lovers" kind of gathering. Mark your calendar for next year. You won't want to miss it!
Author: Kit Henshaw
Bio: Local Food Devotee l Owner, Business Manager, Forager for Harrison's Wine Grill & Catering