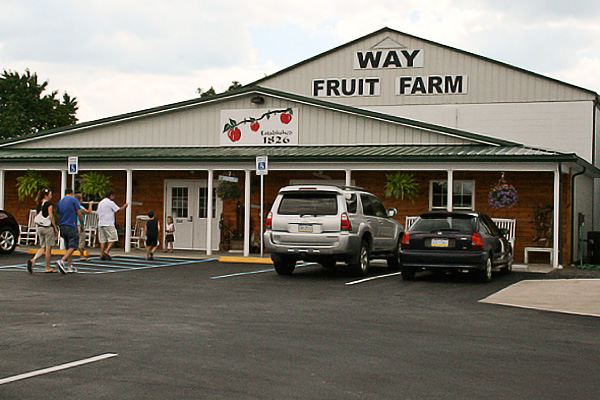 Way Fruit Farm offers all sorts of things that are good to eat; from different types of fruit to a variety of local food products from places like Tait Farm Foods and Hogs Galore. But their bread and butter, what put them on the map, is of course apples.
As a big fan of Way Fruit Farm, I can tell you that I see a lot of people buying huge amounts of apples for all sorts of recipes. I met a woman there last year who was baking apple pies for recipes, planning on giving them as gifts…a total of 25 pies! Apple pies certainly are a great way to use Way's apple bounty, but I recently had the opportunity to talk to Megan Coopey, who with her husband Jason are co-owners of Way Fruit Farm, about some other recipes for apples. Jason and Megan are two reasons to visit Way Fruit Farm, always friendly and helpful, and Megan was glad to help by giving me several fantastic recipes that would make a fantastic addition (or additions) to the Holiday table.
Continue Reading: Co-owner of Way Fruit Farm shares three favorite apple recipes
Posted by Jamie Oberdick on 12/05, 2013 at 11:13 AM

Special to Local Food Journey by Carolyne Meehan
The Friends and Farmers Cooperative Meet and Greet at Whisker's in the Nittany Lion Inn on Tuesday, December 10 from 6:00 to 8:00 p.m. will be a fun, delicious, and informational evening. Chef Andrew Monk will be serving up light appetizers prepared with local ingredients and a cash bar will be open for refreshments. Chef Monk has been a big supporter of the cooperative's goal to make more local produce, meat and dairy more accessible to all. He has been making big changes as the executive chef of the Nittany Lion Inn - serving up local grass fed burgers that come from a single steer and introducing folks to local kale and beets as the stars in his main dishes. He is also big into the concept of "nose to tail" cooking, a method that involves serving up dishes to incorporate all cuts of meat.
Continue Reading: Friends and Farmers Cooperative Meet and Greet Dec 10
Posted by Jamie Oberdick on 12/04, 2013 at 09:30 AM
Tags: FriendsandFarmersCooperative |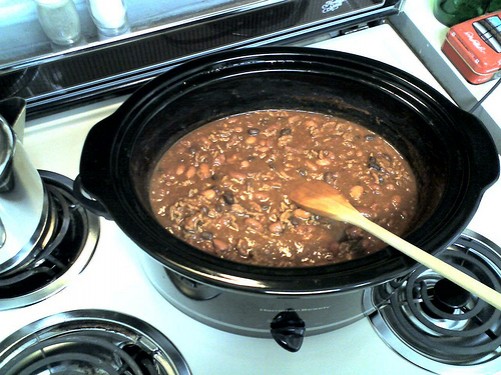 When I was still a young man my father handed me his rifle and one bullet. He said "bring a deer home or don't come home." Now to some that might seem cruel. To me it was a challenge. By the time my father said that, I was good with a rifle, actually very good. He was actually kidding. Well, sort of kidding, we really needed the meat.
So I traipsed out into the snow to get some meat. I came home a few hours later dragging a buck behind me. I always enjoyed hunting. The time in the woods by myself, the skill in tracking the game, testing myself, pushing the limits. After I got older and served and did some other things I lost my taste for hunting but not for venison. So when I can get my hands on some I love to make it in new and interesting ways. Here I have included my recipe for venison chili, crockpot style.
Continue Reading: Recipe: Venison chili a great way to serve up results of this year's hunt
Posted by James Sechrengost on 12/02, 2013 at 09:30 AM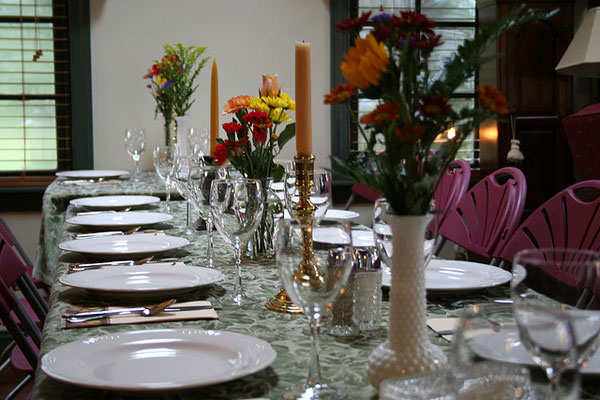 Traditionally, unless of course you are vegetarian or vegan, turkey holds top billing at the Thanksgiving table. We've all seen the classic "Freedom from Want" painting by Norman Rockwell, an image that quickly became the template for our truly American holiday, Thanksgiving. Grandma lowers the giant golden-brown bird onto the table, as all the relatives ooo and ahh.
But really, the sides are the co-stars of this culinary production, and rightfully so. While there is certainly nothing wrong with tradition, they don't have to be sugary sweet potatoes with marshmallows, green bean casserole, or "cranberry sauce a la Bart" direct from a can (Simpsons reference). With local ingredients, they can have flair and pizzazz that almost steals the show from the big turkey (not your one annoying uncle, I mean the main course).
Continue Reading: Local food sides share a rightful place next to turkey star on Thanksgiving stage
Posted by Jamie Oberdick on 11/26, 2013 at 10:25 AM
Tags: Thanksgiving | recipe | squash | cabbage | sandwich |