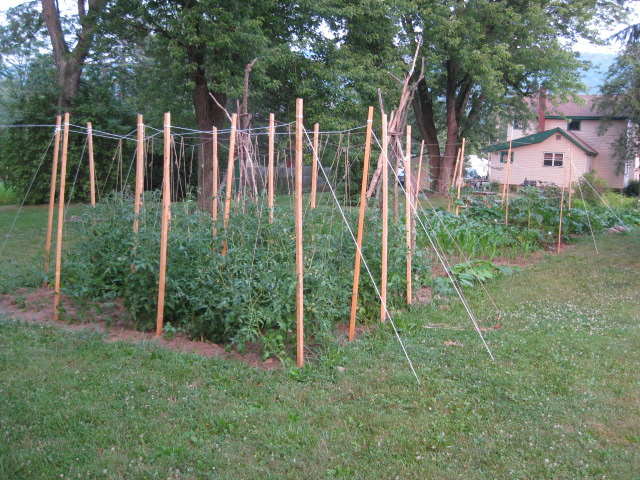 About 10 years ago, one of the most ridiculous books ever published on gardening, The $64 Tomato, hit the bookstores. Basically, it was a tale that was less about gardening and more about how bad of a gardener its author, William Alexander, was at that time (no idea if he got any better).
While much of the book was written in jest, soon afterwards I'd hear people refer to it as a cautionary tale that gardening is a super-expensive endeavor. However, this couldn't be further from the truth; gardening doesn't have to be expensive (no, Mr. Alexander, spending $700 and $1900 for steel edging is not a necessity for growing tomatoes). With a little bit of know-how, the desire to recycle, and modest effort, you can grow a garden without breaking your bank. Here's some tips:
Continue Reading: Tips to gardening on the cheap
Posted by Jamie Oberdick on 05/31, 2016 at 11:12 AM
What a time to be a locavore. The farmers market season is now in full swing and we have the unofficial official start of summer, Memorial Day, coming up. There's so many things that are grown and produced locally that this list could go on and on, but here's six items that definitely deserve a place on your Memorial Day table. All of these can be found at farmers markets such as Bellefonte Farmers Market, Friday Downtown State College Farmers Market, North Atherton Farmers Market, and the Millheim Farmers Market.
Continue Reading: Six must-have local food items for your Memorial Day table
Posted by Jamie Oberdick on 05/25, 2016 at 09:59 AM
Tags: farmersmarket | picnic | MemorialDay |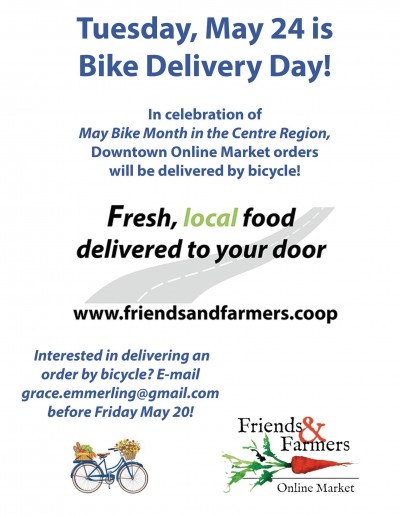 Friends & Farmers Cooperative is getting into the spirit of Centre Region's May Bike Month by offering bike delivery services for some of its Online Market orders on Tuesday, May 24. (See attached flyer)
The Online Market is open noon Fridays to noon Mondays. This week, downtown customers and businesses can opt for bike delivery by adding "Deliver by Bike Please" in the comment section of their order.
Continue Reading: Friends & Farmers Cooperative Online Market to host Bike Delivery Day on May 24
Posted by Jamie Oberdick on 05/20, 2016 at 10:04 AM
Tags: Friends&FarmersCoop | bicycling | BikeMonth |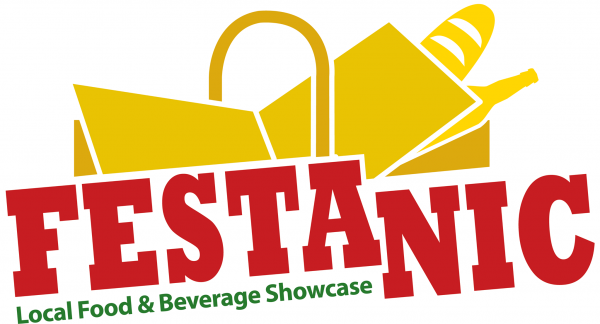 By Melanie Phillips, Village Eatinghouse Artisan Foods
It's the WHY…that makes Festa-Nic special.
Central Pennsylvania has an abundance of large and small specialty food and beverage manufacturers making high quality consumer goods that help to fuel our local economy and support our families and our communities. Friends & Farmers Co-op is our non-profit fundraiser partner and they are helping to fuel the excitement and participation in Festa-Nic.
Continue Reading: The Who, What, When, Where: Festa-Nic Central Pa Culinary Showcase
Posted by Local Food Journey on 05/18, 2016 at 09:49 AM
Tags: Festa-Nic | event | Friends&FarmersCoop | VillageEatinghouse |