Posted by Harrison's Fresh + Local on 01/10, 2012 at 06:06 PM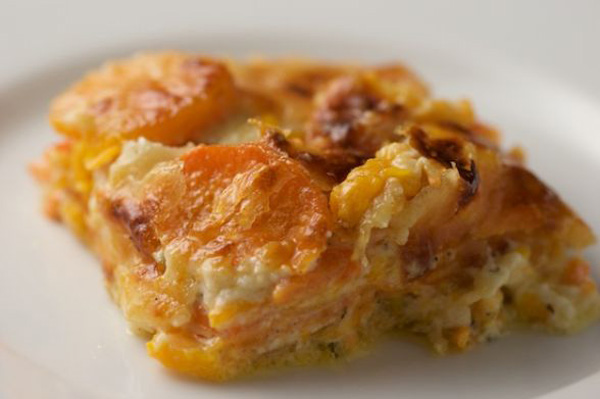 Our local food partners are the stars behind the scenes at Harrison's Wine Grill – we purchase from more than 20 local businesses during the growing season. During the winter, we focus more on the year-round products, especially locally produced cheese like our Goot Essa cheddar and Three Belle goat cheese, both from Millheim, Pa. We are working to bring more Pennsylvania artisanal cheeses onto our menu this year because our menu items designed around Goot Essa Sharp Cheddar have been so popular, especially the gratin recipe featured below.
Goot Essa is an Amish cooperative of Plain Pennsylvania dairy farmers who have banded together to sell milk and cheese. In the German language "Goot Essa" means "good food" or "good eating." Over the last 20 years, John Esh and his working partners have mastered the art of making gourmet-quality cheeses. Each step in the process requires strict attention to time, temperature and pH level to produce peak flavor in each type of cheese. The whole process starts with whole, pasteurized milk from his meticulously maintained Amish farm here in Centre County.
Goot Essa has chosen to work their fields in the traditional way. Their farms are small, but each acre and each animal is cared for with love and respect for the ways of nature. Their's are true family farms where each member of the family has chores and contributes to the good of the farm and the greater community.
Goot Essa cheese can be purchased as part of a cheese platter or special order for event catering. It is also a prime ingredient in our can't-keep-it-in-stock Butternut Squash Gratin. Here, Chef Harrison shares the recipe for this popular side dish. You can usually purchase Goot Essa Sharp Cheddar Cheese at the Tait Farm Harvest Shop. Call ahead to make sure it is in stock (466-3411).
Potato and Butternut Squash Gratin
Serves approximately 8-10 as a side.
2 pounds Butternut Squash – peeled and seeded
2 pounds Russet Potatoes – about three large potatoes
16 oz Local Goot Essa Sharp Cheddar – grated
1 Tbsp Poultry Seasoning
3 cloves fresh garlic – peeled and minced
1 cup Meyer Dairy heavy cream
Salt and White Pepper to taste
Preheat oven to 350 degrees. Generously butter a 9 x 12 inch gratin dish.
Slice the squash into 1/8-inch thick pieces. Peel the potatoes and slice them into 1/8-thick inch pieces.
Stir the fresh minced garlic into the heavy cream in an easy to pour container.
Layer 1/2 of potato in the bottom of the gratin dish. Sprinkle with 1/3 of poultry seasoning, salt and pepper, 1/4 of cheese. Pour 1/3 of cream with garlic over this layer. Layer 1/2 of squash on top of the first layer. Repeat the sprinkling of seasonings, cheese, cream/garlic – in same amounts. Layer 1/2 of potato on top of previous layer. Repeat the sprinkling of seasonings, cheese, cream/garlic – in same amounts. Layer remaining 1/2 of squash on top of previous layer. Press down firmly on the layers with a spoon or your hand. The cream should just cover the layers after pushed down (add a little milk if needed). Sprinkle the remaining 1/4 of cheese on top of gratin.
Cover the dish with plastic wrap and then again with foil. Bake for 45 minutes, then remove the plastic and foil, when potatoes are tender. Bake for another 10 minutes to brown the cheese on top.
Author: Harrison's Fresh + Local
Bio: Fresh and Local Team from Harrison's Wine Grill & Catering