Posted by Local Food Journey on 10/20, 2014 at 12:45 PM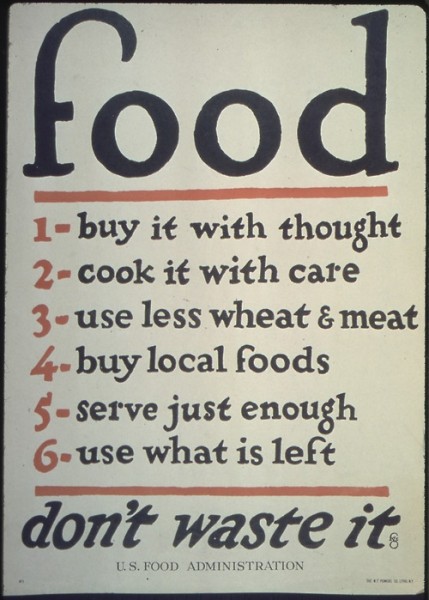 By LaCreta Holland
October 16, 2014, was "World Food Day," a day for "action against hunger," proclaimed by the United Nations.
On World Food Day, I attended a very interesting lecture by Bryan McDonald, assistant professor of history at Penn State. His lecture, "Dinner for Seven Billion: Food Issues for the 21st Century," was held as part of Schlow Library's Research Unplugged series.
Mr. McDonald gave the audience a lot of "food" for thought. He talked about the problems of proper nourishment, optimizing food safety and food sustainability for all.
Mr. McDonald ended his talk showing us this poster (in the image above) from WWI created by the US Food Administration. It is as informative and useful today as it was one hundred years ago!*
*The federal government encouraged the public to use less wheat and meat because what the US produced was being sent to Europe for the troops during WWI.
LaCreta Holland teaches people in Central Pennsylvania how to cook via her business, Happy Valley Learn to Cook. Find out how to take a class and discover more great recipes at her blog.
Author: Local Food Journey
Bio: An exploration of what it means to eat local