Posted by Emily Wiley on 12/01, 2011 at 06:39 PM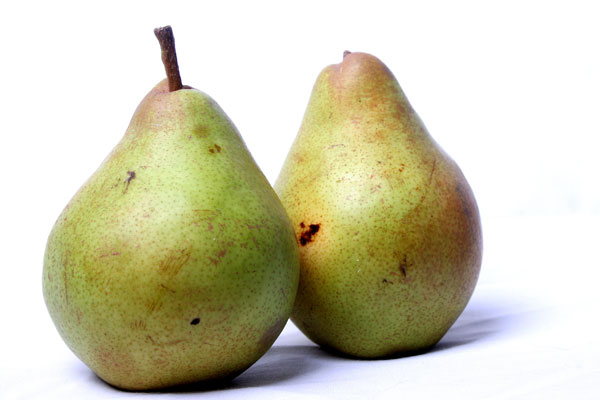 Congratulations to Sarah Zappe of Port Matilda for her Cream Cheese and Pear Tart! She is the recipient of a $25 gift certificate to Fasta Ravioli Company.
Continue reading to see Sarah's recipe, as well as Pamela's Stewed Pears.
Sarah Zappe, Port Matilda
Cream Cheese and Pear Tart
Crust:
1 stick butter (softened)
1/3 c. sugar
1/2 tsp. vanilla
2/3 c. finely chopped walnuts
3/4 c. flour
Pre-heat oven to 350 degrees. In a medium bowl, mix together the butter, sugar, and vanilla. Add walnuts and flour and mix. Press mixture into bottom of 10-11" tart pan. Bake the crust for 10 minutes and cool.
Filling:
8 oz cream cheese (softened)
1 egg
1/4 c. sugar
1/2 tsp. vanilla
Pears, cut into thin slices (about 2-3 pears)
1 tsp sugar
1/2 tsp cinnamon
Increase the oven temperature to 375 and pre-heat. Mix the cream cheese, egg, 1/4 c. sugar, and vanilla in small bowl. Spread mixture over tart base. Place pear slices around top of cream cheese mixture. Mix 1 tsp sugar and cinnamon together and sprinkle on top of pears. Bake 25 minutes.
Cool and refrigerate prior to serving.
Pamela, State College
Stewed Pears
A simple healthy snack or dessert!
Simply peel and cut pears, place in a microwavable dish, sprinkle cinnamon on top, cover with saran wrap and microwave for 5 minutes on 70% power. Microwave longer if you want them softer. You can also leave the peels on, which adds extra sweetness! I like this recipe because anyone can do it and it truly is healthy because there is no sugar added.
Author: Emily Wiley
Bio: WPSU Multimedia Producer | Wife and Mother | Lover of Food and Photography | One-Half of The Culinary Couple