Posted by James Eisenstein on 06/21, 2011 at 04:19 PM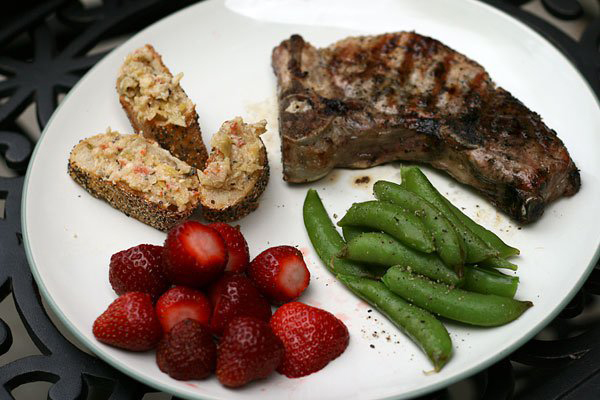 Gallatin Valley Seed Company in Montana provides Fedco Seed Company with certified organic Sugar Ann snap peas. (For you gardeners out there who haven't heard of Fedco seeds, you should get to know them. They have a wonderful catalog with lots of organic and heirloom seeds, and their prices are really good.) Last year we purchased our organic snap pea seeds from Fedco, along with many of the other vegetable seeds we grow.
Now peas really like cool weather, so it is important to get them into the ground early. But – surprise! – there is a catch. You have to prepare the ground before planting, and if you are living through the wettest spring in memory (a.k.a. 2011), you can't. And even if you do get them into the ground, and then it turns cold and wet, they rot. In fact, when farmers are not busy trying to figure out how to square the circle, they ponder how to get peas in early and how to get them to germinate.
This spring, the peas went in late, and consequently, the plants are small. This is one of the woes we shared with other farmers described in the "Wet Spring Impacts Farmers" story posted on the Local Food Journey last week. Sharp-eyed readers will discover this for themselves by scrutinizing a picture of our pea field.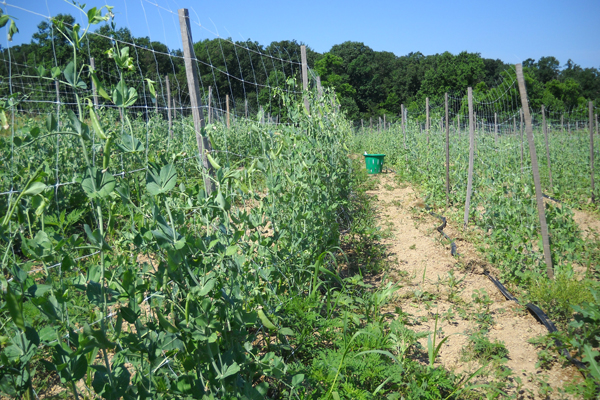 Take note, also, to the rows of stakes with plastic trellises used to support the peas. Since stakes don't leap into the ground themselves, some lucky soul had to pound them in and attach the trellis before the peas got too big. Ah, but it was worth it, because (look closely) pods appear.
The next issue is that peas have to be picked by hand, one at a time. And you have to keep picking them, at least once every three days. If you don't, the pods become big, tough, and inedible.
If you're able to complete all of these steps – from planting on time to germinating to trellising to picking – then it's time to pack the peas and take them to the market. This is the most rewarding part of the story for us – sharing our produce with satisfied customers like Emily.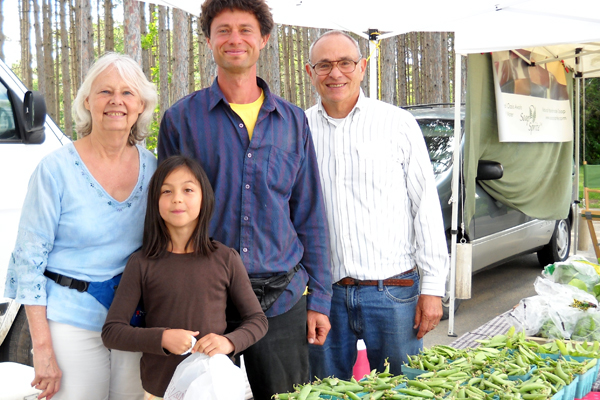 Read more stories from the Unpaid Field Hand.
Author: James Eisenstein
Bio: Unpaid Field Hand at Jade Family Farm | Former Penn State Professor