Posted by Katherine Taylor Grofic on 05/25, 2011 at 05:05 PM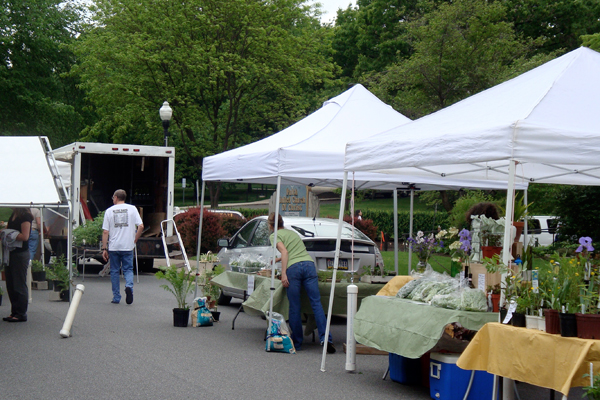 Spring has arrived, and summer is fast approaching, which means some of our favorite food items are now available at local farmers markets. Asparagus, arugula, radishes, and rhubarb are just a few of the items on stands this month. While tomatoes, berries, and sweet corn are on their way.
The State College Farmers Market opened on Locust Lane on May 6th, and the North Atherton Farmers Market set up in the Home Depot parking lot on May 14th. The Tuesday Farmers Market in State College started just last week, and while it is the smallest of the three, it still attracts vendors and customers from across the region.
You can find honey, fresh pasta, breads, and desserts from vendors like Gemelli's Bakery and Sweet Root Orchard. Stands of seasonal fruits like red raspberries, potatoes, and turnips entice locals as they walk along Locust Lane each Tuesday from 11:30am until 5:30pm. An array of flowers and herbs like basil, parsley, and dill fill the narrow street.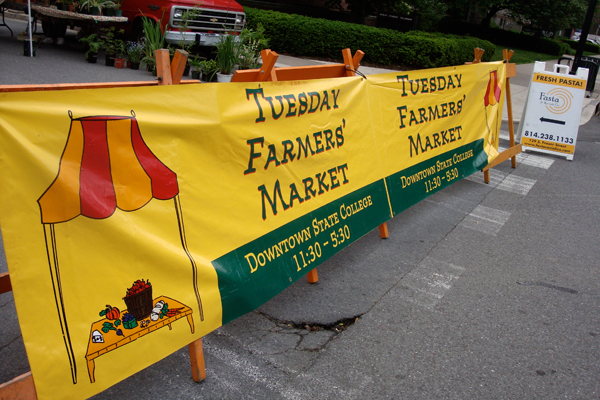 Did you know that Penn State University was founded in 1855 as the Farmers' High School of Pennsylvania? But even with deep roots in agriculture and large research programs dedicated to food and farming, the local farmer-to-consumer relationship isn't what it used to be.
Over the decades, there has been a noticeable shift of interest in buying local to shopping at chain supermarkets. Bellefonte resident, Doug Sims, falls into that category of customers.
As Sims drifts around the market, he doesn't seem to see anything that sparks his interest. While he enjoys the sights and sounds of the local market, he admits that supermarkets offer the convenience and variety that he wants. What does he think could be done to sway him back to local markets? He's not sure, but he hopes that farmers can pull together and find the answer.
There has been a recent surge, however, in support of a local food system. Just check out Buy Fresh Buy Local to find a growing number of markets and restaurants that carry local goods.
State College community member, Kathy Marks, is no stranger to local markets. "You can tell the difference when buying local; it's all a bit fresher." Marks understands that not everything can be produced locally, but she believes we should support our community and local farmers when possible.
Whether there to poke around or on a mission to find the best bunch of asparagus available, every passerby in the nook of Locust Lane wears a smile on Tuesdays. The market is open rain or shine, so head downtown next week. You might just stumble upon your new favorite food.
Author: Katherine Taylor Grofic
Bio: Katherine is a senior at Penn State majoring in Media Studies with a focus in Film/TV. She enjoys to watch movies and documentaries and cooks in her free time. One day she hopes to be living on the west coast and work in film production.