Posted by Jamie Oberdick on 08/17, 2012 at 04:31 PM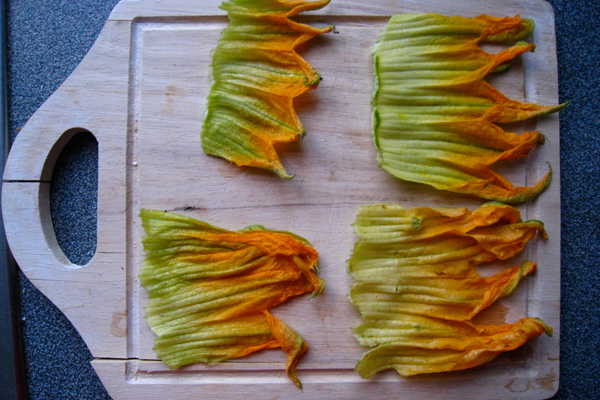 Tons of zucchini are a garden cliche. They are so easy to grow that's it's almost impossible to not have more zucchini than you need. By this time of the year, all your friends politely turn down your offer of free zucchini because everyone in their family, at work, and in their circle of friends has given them about 1,000 zucchinis.
However, there is a way to deal with your embarrassment of zucchini riches. You can control your zucchini production by eating the blossoms. Yes, the blossoms. Zucchini blossoms are a popular part of traditional Mexican and Italian cooking. I have made zucchini blossom quesadillas, a classic Mexican dish, and they are fantastic. But my favorite preparation is an old Italian favorite: zucchini blossoms stuffed with cheese, breaded, and fried.
The blossoms have a mild flavor reminiscent of zucchini itself, which makes them work well for this recipe. They can be served as a unique and interesting appetizer, or if topped with tomato sauce and Parmesan cheese and served with pasta, they can make an interesting vegetarian parmigiana.
To get started, first head out to your garden and harvest the blossoms. The best time to do this is in the morning the day you are frying the blossoms. Pick large blossoms right before they open for best results.
Now bring them inside, carefully open them, and remove the stamen. It's also a good time to check for bugs and get rid of them, too. Especially if, you know, you're cooking for vegetarians. Carefully wash in gentle flow water and then dry them. During this entire process, be careful you don't tear the blossoms. They are fairly delicate.
Now you are ready to cook.
Ricotta Stuffed Squash Blossoms
6-8 squash blossoms
2 cups ricotta cheese
1/2 tablespoon finely chopped basil
1/2 tablespoon finely chopped sweet marjoram
1/2 tablespoon finely chopped flat-leafed parsley
salt/pepper
1-1 1/2 cup flour
1 large egg, beaten
1/4 cup milk
Enough canola oil to deep fry
Heat oil to 375 degrees in deep fryer or heavy saucepan.
Mix cheese and herbs in bowl, season to taste with salt and pepper.
Mix beaten egg and milk in a separate small bowl. Add flour to bowl.
Take cheese mixture and fill blossom, but not to the point of bursting and leave enough blossom to enable you to twist the flower shut. Carefully dredge blossom in egg/milk mixture. Coat with flour, shaking off excess.
Fry blossoms in heated oil until golden brown, around 2-4 minutes. Drain on paper towels. Serve with tomato sauce for dipping.
As mentioned above, you can easily turn these into a vegetarian parmigiana.
Author: Jamie Oberdick
Bio: Editor, Local Food Journey | Passionate about supporting local food in Central PA