Posted by Jamie Oberdick on 07/24, 2013 at 10:55 AM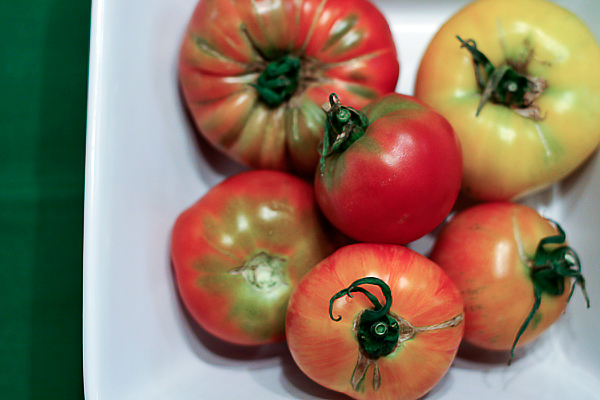 If you are a gardener, a friend of a gardener, or frequent farmers markets, chances are pretty good that soon you will be awash in tomatoes. It's that time of the year, and it's hard to imagine summer without fresh tomatoes. This is, at least to me, the only time to eat fresh tomatoes. Local summer tomatoes are simply the best, and supermarket tomatoes in January with their bland flavor and waxy consistency do not even come close.
Not only are tomatoes tasty right now, they are abundant. So, what to do with all those tomatoes? Here are some recipes.
First, we have James Sechrengost, a writer with Local Food Journey, who has a very nice pasta recipe with fresh tomatoes:
"I got this recipe from a woman in southern Colorado named Alice who I chopped wood for one fine fall day. I was driving along and I saw this lady out trying to chop wood. I stopped and asked if I could lend a hand. She wouldn't let me help without paying me. So I told her if she made me lunch we would be square. This is the dish she made me.
1 package angel hair pasta
2 pounds tomatoes
4 cloves crushed garlic
1-2 tablespoons olive oil
1 tablespoon chopped fresh basil
1 tablespoon tomato paste
Salt to taste
Fresh ground black pepper to taste
1/4 cup grated Parmesan cheese
1. Blanch tomatoes in a pot of boiling water for a few minutes and then dump them into ice cold water. Peel them and rough chop into pieces.
2. Cook the pasta according to directions and al dente.
3. While pasta is cooking, in a large skillet or sauté pan, sauté the garlic in olive oil. The garlic should just become translucent, not brown.
4. Stir in the tomato paste. Immediately stir in the tomatoes, and salt and pepper. Reduce heat, and simmer until the pasta is ready.
5. Add the basil.
6. Drain the pasta, but do not rinse in cold water.
7. Toss with a couple of tablespoons of olive oil, and then mix into the sauce.
8. Reduce the heat as low as possible. Keep warm, uncovered, for about 5-10 minutes.
9. When it is ready to serve garnish with fresh Parmesan cheese."
James also has a recipe for tomato soup that comes from Italy:
"When I was in Italy a friend's mother made this for me one rainy day. I haven't had any better tomato soup before or since.
4 cups chopped tomatoes
1 medium onion chopped
2 cloves garlic
2 cups chicken stock
2 Tbs butter
2 Tbs flour
1 tsp salt
1-2 tsp sugar
In a large pot cook tomatoes, onions, garlic, and chicken broth over medium heat.
Once up to a slow boil simmer for 20 minutes.
Remove from heat and allow to cool slightly.
Put mixture in a food processor and puree till nice and smooth.
Strain mixture into a bowl to remove seeds and so forth.
In the pot melt the butter over a medium heat and then add flour.
Cook mixture until about the color of peanut butter to get rid of the flour taste.
Add some of the tomato mixture and bring back to temp so no lumps form.
Gradually stir in the rest of the mixture and bring to a low simmer until mixture thickens slightly.
Add salt and sugar to taste."
Emily Reddy, producer with WPSU, has a simple recipe for tomatoes that's a true classic.
"The tomatoes are too good to cook. I just slice them, throw on some mozzarella and basil and eat. It really is the best thing to do with a good tomato."
For myself, I grew up in Pennsylvania Dutch country, and this unique recipe is a great dish to take to a summer barbeque. It includes cucumbers and is cooked, which is a bit unusual for cucumbers. But is a very nice combination of flavors and a cinch to make:
5-6 tomatoes, sliced
1 medium cucumber, sliced
1 small onion, sliced thin
1/2 cup bread crumbs
1/2 cup grated cheese (romano is good)
salt and pepper to taste
Grease a baking dish and place a layer of tomatoes, add half the cucumber and onion slices and half of the crumbs. Repeat with more tomatoes and remaining cucumbers, onions, and crumbs. Top with tomatoes and sprinkle with the romano cheese. Bake in the oven at 375 for 30 minutes.
Author: Jamie Oberdick
Bio: Editor, Local Food Journey | Passionate about supporting local food in Central PA