Posted by James Sechrengost on 07/09, 2014 at 12:11 PM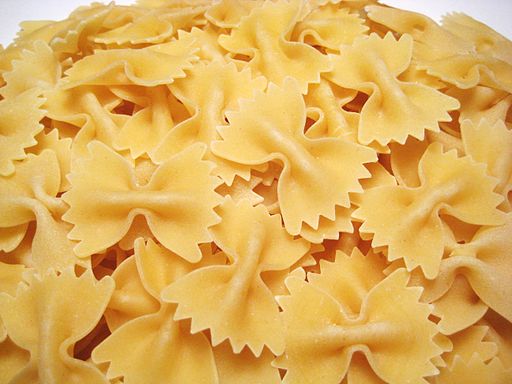 Pasta has to be one of my true passions. I love it in all the shapes and forms it takes, from the lowly elbow macaroni to the lasagna noodle. Maybe this is because when I was small child we lived in a neighborhood that was predominantly made up of people of Italian descent. All my neighbors, including the parents of the kids I played with, introduced me to pasta at an early age. I learned all the wonderful things that you could do with pasta from the mighty lasagna to simple, yet elegant, fettuccini carbonara.
One of my favorite and fun pastas has to be the farfalle or bow tie pasta. It is firm and holds up well to cooking and has many hidden creases to hold on to the sauce. I love this pasta for different pasta salads as it holds up to being in dressing for hours without losing any of its chew and texture. Below is a recipe for kale and pasta salad that I hope you will enjoy.
Ingredients
1 pound farfalle pasta
3 tablespoons pine nuts
1/4 cup olive oil
6 cloves garlic, finely minced
2 teaspoons salt or more to taste
1 teaspoon black pepper or more to taste
1 bunch kale, pull leaves form stems and roll into ball and finely sliced
4 ounces or more, there is always room for more, Parmesan cheese, shaved, and you can use grated.
2 tablespoons balsamic vinegar (optional if you want a little tang)
Steps
- Cook pasta.
- Drain pasta and rinse with cold water to stop cooking. Put it in a large bowl and set aside to cool even more.
- Put pine nuts in a small skillet over low heat. Toast slowly 8-10 minutes, tossing regularly until browning and aromatic.
- Remove pine nuts from heat and allow to cool.
- In a large skillet, heat olive oil and garlic over low heat.
- You want the garlic flavor to infuse the oil not toast. When the oil starts to cause the garlic to sizzle, stir around so the garlic doesn't get too brown. When garlic starts to turn golden, add salt and pepper, stir, and set aside for 5 minutes to cool. Can you sense a theme here?
- After about 5 minutes, pour the oil mixture make sure you get all the salt, pepper, and garlic) all over the bow tie pasta. Toss to combine and set aside.
- Using the same skillet (without cleaning it) over medium-high heat, Add the kale and cook for 5 minutes, or until partly wilted.
- Add kale and pine nuts (and balsamic vinegar if using) to the pasta and toss it all together. Check to make sure it's cool, then add Parmesan shavings and toss. Taste for seasonings and add more salt and pepper if needed.
- Chill for at least 2 hours before serving.
Author: James Sechrengost
Bio: Computer Guru | World Traveler and Foodie Extraordinaire | Member of the Been there Done that Club