Posted by Cara McShane on 06/15, 2012 at 12:40 AM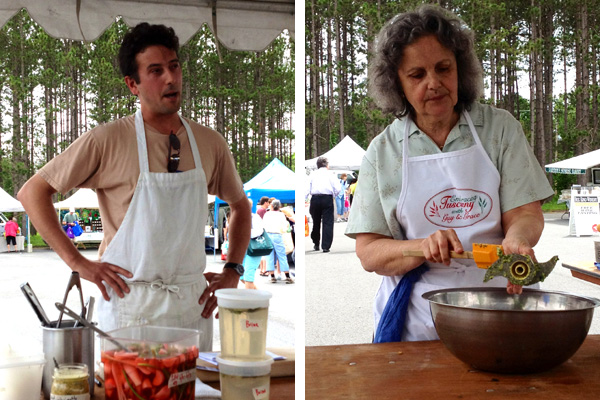 The Boalsburg Farmers' Market welcomed Mark Johnson and Grace Pilato to the new Learning Kitchen on Tuesday afternoon to showcase a variety of recipes featuring local ingredients.
Johnson, chef at Elk Creek Café + Aleworks, and Pilato, local chef and cooking instructor, demonstrated how to use and prepare products from market vendors like radishes, garlic scapes, beets, and basil.
Johnson kicked off the demonstration with quick pickling and brining—techniques he uses to preserve seasonal products. On Tuesday, he chose to pickle radishes, spring onions, and garlic scapes. Pickling, Johnson said, is about making vegetables last longer, enhancing their flavors, and creating by-products like a sweet and sour salad dressing made of pickled spring onions and olive oil.
Next, Johnson demonstrated how to brine several cuts of meat. He said brining helps to increase the moisture content and preserve meat. He emphasized that this technique is ideal for making the most of cheaper cuts. Depending on the cut, brining can take up to 24 hours.
Market-goers enjoyed samples of Johnson's recipes: brined and cooked pork belly and chicken, pickled vegetables, and sweet and sour dressing.
"Can I have a taste for my wife, so I can try and get her to make this?" James Eisenstein, host of the Learning Kitchen, asked Johnson at the end of his presentation.
During the later part of the afternoon, Grace Pilato presented an Italian-inspired demonstration. First she showed how to make fresh ricotta from goat's milk and buttermilk that can be served alongside fresh fruit, in stuffed pasta, in pestos or sauces, or spread onto a bagel with a drizzle of local honey.
While the ricotta simmered on the stovetop, Pilato demonstrated how to make three different pestos, each with a unique spin on the traditional recipe of garlic, basil, pine nuts, and olive oil.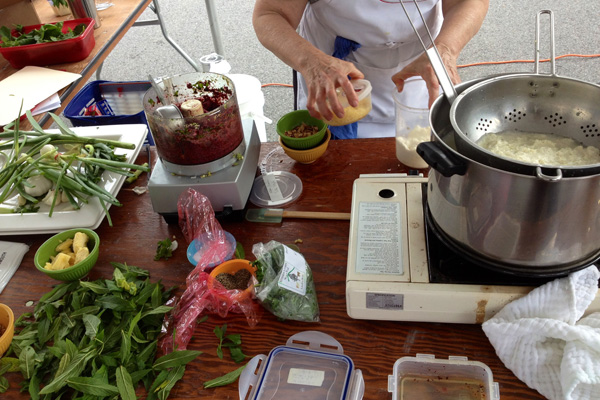 The first pesto used mint, basil, parsley, garlic, local nuts, extra-virgin olive oil (don't even think about using anything but extra-virgin, she said!), salt, pepper, and cheese. The second pesto was based around a mixture of roasted beets, sweet onions, and garlic. And the third pesto used basil and spinach.
Pilato chopped up tomatoes to decorate her trio of pestos and offered several serving suggestions: tossed with pasta, spread onto bread, or spooned over fish or chicken. It can easily be frozen and will keep for a whole year. ("It's like having money in the freezer!" she said.) But she suggested holding off on the nuts and cheese and adding them later for the freshest product.
After Pilato's demonstration, the audience was able to sample her pestos, which were served with homemade Gemelli bread, tossed with Fasta Ravioli rigatoni, and spread onto freshly baked pizza dough from Gemelli's outdoor oven.
This event was the first of its kind, though the Boalsburg Farmers' Market has plans to make the Learning Kitchen a monthly event.
Author: Cara McShane
Bio: Penn State Journalism Student | Foodie & Health Enthusiast | Lover of Cooking, Music, and the Outdoors (especially when combined!)