Posted by Cara McShane on 06/27, 2012 at 12:40 PM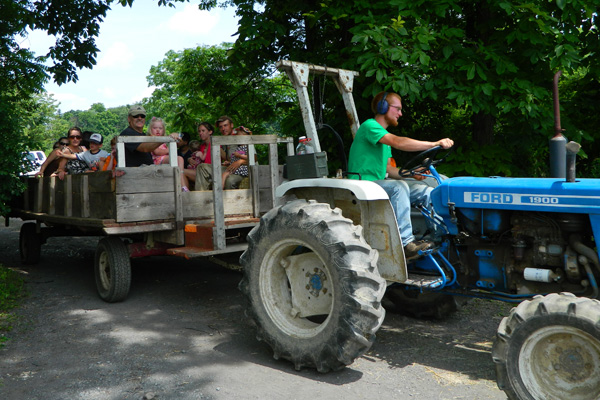 Tait Farm hosted the second annual Summer Solstice Celebration of Local Farms, Food, and Art on Saturday, June 16th from 1-4pm. The event, which benefited the Centre County Farmland Trust, drew a crowd of over 500.
Attendees enjoyed live music, local food and beverage sampling, and an art exhibit presented by the Farmland Preservation Artists.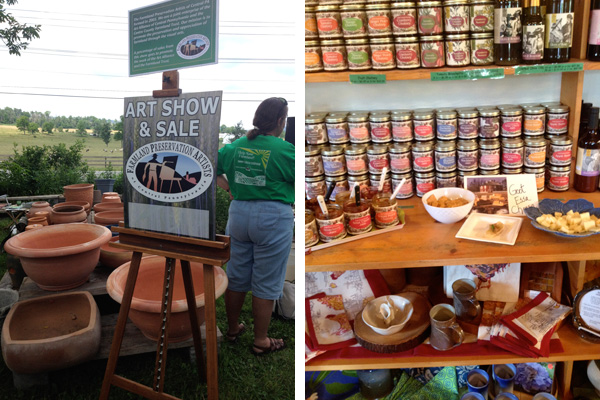 Larry Hutchinson, president of the Centre County Farmland Trust, said that the trust is "gaining momentum." The trust is a private, non-profit organization that strives to preserve productive farmland in central Pennsylvania for agricultural purposes. To date, it has preserved nine farms and is currently working on three more.
"Our main order of business is preserving farms," Hutchinson said. "We want people to be able to produce food close to where they live."
Hutchinson emphasized that even small farms may be important and "have significant conservation values."
"When we are adding value to a farm, there is more of a chance that a family can be supported on that land," Hutchinson said.
Hannah Smith, community outreach coordinator for the Pennsylvania Association for Sustainable Agriculture (PASA) said that their goal is to "support farmers who are farming sustainably" and to "provide farmer-to-farmer education."
Karen Myford, a coordinator for the event, said that the purpose of the Summer Solstice is to "educate people about the importance of hanging onto farmland."
"Each vendor supports local food and does a lot of sourcing locally," Myford said. "Without local farms, there's no local food. We aren't against development, but we are against unnecessary development."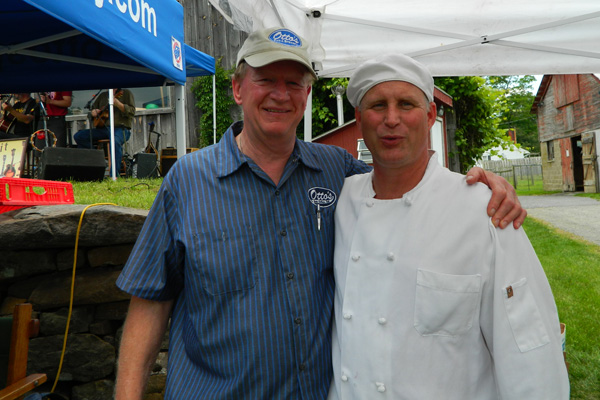 Chef Harrison Schailey and Kit Henshaw, founders and proprietors of Harrison's Wine Grill, were serving up samples of pesto and local goat cheese crostinis as they stressed what local food means to them.
"We purchase from more than 25 local suppliers," Henshaw said. "We buy what we can get locally."
From a chef's standpoint, Harrison spoke of how using local ingredients in the kitchen makes the best meal, and they purchase local produce when it's available. When they have an abundance of something, Chef Harrison gets creative in the kitchen. Henshaw said this "sometimes make the best recipes." For example, he recently made a rhubarb vinaigrette because he didn't know what to do with so much rhubarb.
Chef Harrison likes local ingredients for their freshness, too. In comparison to store-bought, Harrison said cheese from a local farm is "much creamier, stronger, and more pungent" and that the flavors are "more concentrated." Harrison's sources their cheese from local vendors, such as Three Belle Cheese, Goot Essa, and Clover Creek Cheese Cellar, LLC.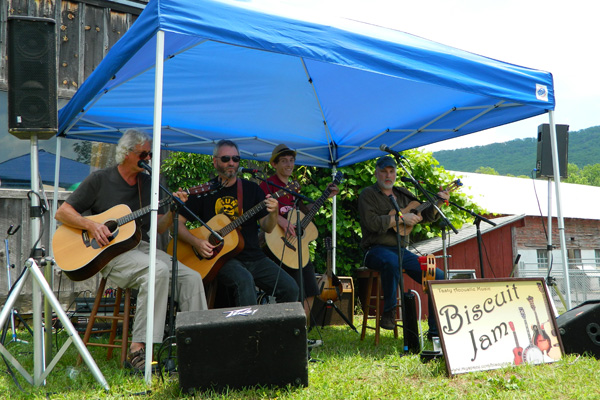 Tait Farm, Elk Creek Cafe + Aleworks, Mt. Nittany Winery, Otto's Pub and Brewery, Zola Bistro, and The Gamble Mill also provided support and samples. Tait Farm served up samples of their chutneys and mustards. Of-age attendees had a chance to sample local wine and microbrews.
"One of the greatest resources we have is farmland," Myford said. "The basis of our community is agriculture, and this is about getting everybody to understand that."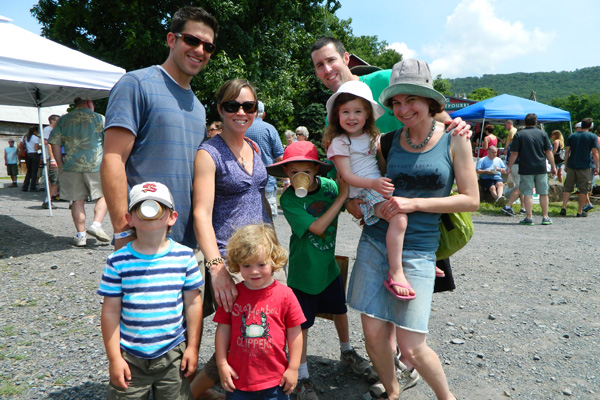 Other sponsors of the Summer Solstice Celebration included ClearWater Conservancy, PASA, and Buy Fresh Buy Local. Donations from Ecoproducts, Roaring Spring Water, and the State College Borough made this year's event "zero waste" through composting.
Author: Cara McShane
Bio: Penn State Journalism Student | Foodie & Health Enthusiast | Lover of Cooking, Music, and the Outdoors (especially when combined!)