Posted by Michele Frank on 10/11, 2010 at 12:27 PM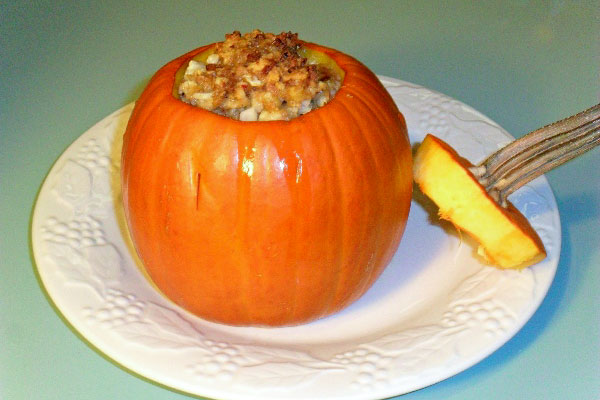 I love October. I love the leaves, the Halloween decorations, and most of all, the pumpkins. Every year, on October 1st, I embark on a quest for the perfect pumpkins. Once I have found them, I try to come up with innovative ways to use them for cooking, outside of the typical pumpkin pie. Here is the perfect recipe for entertaining this fall. It is simple, quick, and the finished product is cute and tasty.
Ingredients
4 small pumpkins
6 sausages, removed from their casings
5 cups herb flavored stuffing mix
2 cups chicken broth
4 Tbsp garlic powder
4 Tbsp chili powder
3 eggs
2 small onions, coarsely chopped
3 Tbsp melted butter
Directions
Preheat the oven to 350°.
Remove the tops from the pumpkins. (Tops can be saved for presentation but are not required.) Remove the stringy pulp and seeds from the pumpkins. (If desired, save the seeds for roasting later.) Once the pumpkins are hollow, brush the insides with the melted butter and place into a baking pan. Bake for 15 minutes to soften the pumpkins.
Meanwhile, mix all other ingredients together, including the remaining butter.
Remove the pumpkins from the oven and let cool, about 5 minutes.
Stuff the pumpkins with the sausage mixture and place back into the oven for about an hour and 15 minutes. Cool 10 minutes before serving.
Author: Michele Frank
Bio: Michele is a senior at Penn State majoring in print journalism. She loves to cook for her friends and family, and wishes to make a career out of her hobby. She spent last summer working for Gulfshore Life Magazine in Naples, Fla.