Posted by Michele Frank on 09/30, 2010 at 05:45 PM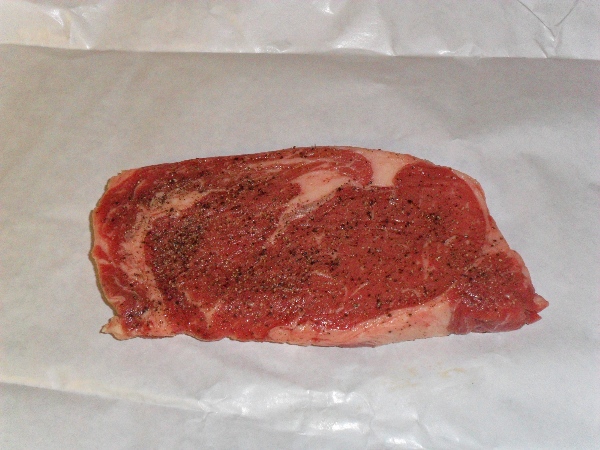 Whenever I want to impress someone with my cooking this is my go to recipe. I have yet to meet someone who dislikes it, and in fact, it usually becomes one of their favorite meals. Everyone in my family is in love with this steak. Every time I go home to visit them, they ask me to make this. While this is recipe is intended to serve two people, it can easily be doubled for more.
Ingredients
2 Tbsp butter
2 ribeye steaks (I got mine from the Penn State Friday Meat Sale and they were fantastic, definitely recommended.)
Ground pepper, as much as you like.
1 cup beef broth
1/2 cup heavy whipping cream
1 tsp flour
2 Tbsp Dijon mustard
Directions
In a large frying pan, melt the butter over medium-high heat.
In the meantime, trim the fat from your steaks and press fresh ground pepper into both sides. Use as much or as little pepper as desired.
Once the butter is simmering, place the steaks into the pan and cook about 7 minutes on each side. This will leave the steaks slightly rare in the middle. If you prefer them more done, add 2 minutes to the cook time for each side.
Remove the finished steaks from the pan and turn off the heat. Scrape the sides of the pan and reserve the drippings. Let set for 5 minutes.
Add the broth, whipping cream, flour, and mustard to the drippings. Whisk well and make sure there are no lumps in the sauce.
Turn on the heat to high and bring the sauce to a rolling boil. Bring the sauce down to a simmer for 3 minutes and remove from heat. Serve over the steaks. Enjoy.
Author: Michele Frank
Bio: Michele is a senior at Penn State majoring in print journalism. She loves to cook for her friends and family, and wishes to make a career out of her hobby. She spent last summer working for Gulfshore Life Magazine in Naples, Fla.