Posted by Jamie Oberdick on 09/11, 2015 at 12:22 PM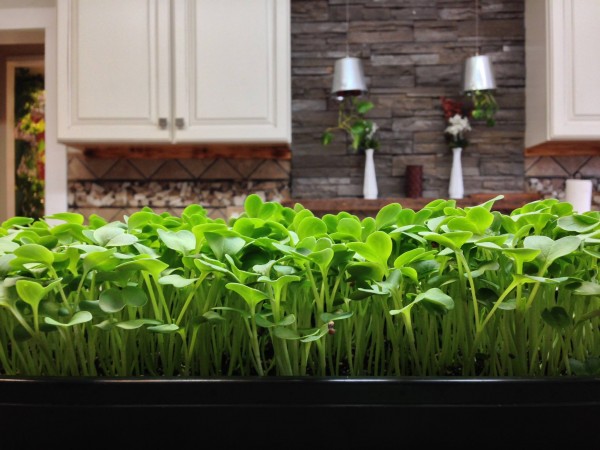 Note: To support honeybees and Green Towers LLC's efforts to help pollinator populations that is mentioned later in this article, please go to their KickStarter campaign.
A State College startup company is working on some innovative ideas that are aimed at taking local food into the future.
Green Towers, LLC, is a local food business that was created based on an entry to the Penn State College of Agricultural Science's Springboard Competition for young entrepreneurs, according to Dustin Betz, founder and president of Green Towers. They won the 2012 competition, and from there created a company with some very innovative ideas on growing food.
The Green Towers team includes Betz, Mike Zaengle, vice president of design; Jared Yarnall-Schane, vice president of sales; and Jon Gumble, vice president of operations. This team is currently charting Green Towers' future course with a variety of products in development.
"We have a lot of different product concepts. I use a term that's my own creation to describe what we are; we're an urban ag design company," Betz said. "What that's meant for us in practice is we do a lot of different projects with different scopes. We're very much in the lean startup mode and trying to figure out what our bread and butter products will be in the future."
One product that they are offering for sale on their website right now is a unique play on the food subscription services like Blue Apron. "We're calling it our 'Garden Box' which is a really simple way for people to grow their own microgreens," Betz said. "We came up with the idea of sending pre-seeded trays in a dehydrated soil mixture that you would add water and grow microgreens. It's like a food ecommerce subscription model, where every month you get different varieties of greens with suggested recipes or flavor pairings. The subscribers would grow them on a patio or windowsill that gets direct sunlight. It's a way to encourage people think about growing their own food."
This product is offered in both an individual size service, and a professional-level service for restaurants and artisan food businesses. "There's a lot going on with all these monthly subscription food services, like Amazon Fresh or Blue Apron, but we don't see a lot of that going on with anything where you grow it yourself," Betz said.
Another product that's still in the development stage is called Green Towers, a vertical farming system where greens would be grown in a stacked setup that saves space. At first, Betz said, they looked into the commercial greenhouse grower market for it, but found the economics wouldn't fit for a commercial grower. So, they are planning on marketing it to restaurants and artisan food retailers.
"Somebody could use it as much as a marketing tool as a way to grow greens for sale," Betz said. "It creates a real wow factor. If you come into a small grocery and you see the greens growing right in front of you, that might be really interesting to a customer who really believes in local food."
Another Green Towers project is a Kickstarter campaign to test the market for an observation bee hive known as the "BEEcosystem". "It's a wall mountable observation hive," Betz said. "It's a different shape than most observation hives out there and it can be mounted indoors. There's a little transfer tube that you can put through a window. The bees crawl through a tube to enter and exit as they please and the main part of the hive is visible so you can watch them."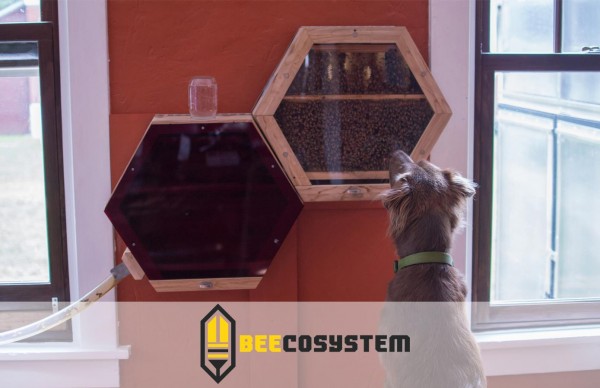 BEEcosystem is fascinating to watch for humans, and dogs. Photo courtesy of Green Towers Facebook page
Along with being quite a conversation piece for a home or even a business, the observation bee hive helps honeybee, which are important pollinators in our ecosystem. In fact, they won a competition this year in Colorado run by entrepreneur support organization Maverick1000 that focused on businesses coming up with ways to alleviate the bee/pollinator crisis. "Bee populations are in decline," Betz said. "Bees are a vital part of food production and this idea enables individuals to do something to help."
You can support GreenTowers efforts to rethink local food, learn more about the BEEcosystem, and even get your own BEEcosystem by pledging to their Kickstarter campaign.
Author: Jamie Oberdick
Bio: Editor, Local Food Journey | Passionate about supporting local food in Central PA