Posted by Brittany Smith on 10/23, 2012 at 02:48 PM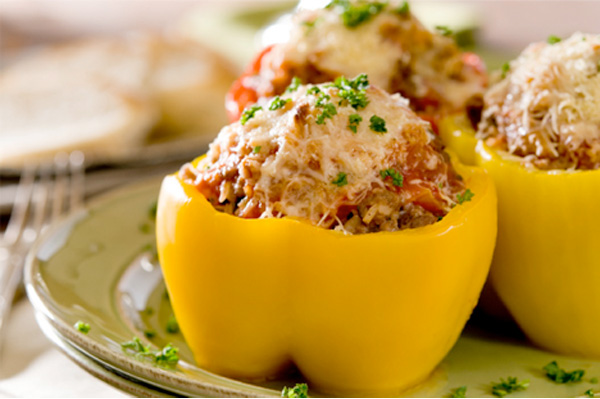 I've always thought the best part of fall is its' warm colors: green, red, orange, and yellow. Not only do these colors represent a changing of the leaves, but the crisp, vibrant flavors of fresh bell peppers.
The bell pepper's quirky shape is a perfectly sweet substitute for the average bowl, and can hold flavors twice as savory as its own.
Try adding a festive kick to your favorite fall dishes with these Spicy Beef Stuffed Peppers.
Ingredients
6 large bell peppers
1 1/2 lb ground beef
1 large onion, diced
1 (8oz) can tomato sauce
1 cup fresh or frozen cork kernel
1 tbsp chili powder
1 tsp dried oregano
2 tsp ground cumin
1 tbsp Worcestershire sauce
3 cloves garlic, minced
1 (15oz) can pinto beans, drained
1/2 tsp fresh ground black pepper
1 tsp salt
1/2 cup water
1/2 tsp cayenne, or to taste
8oz Pepper Jack, or regular Jack cheese, shredded
Directions
In a large skillet, lightly brown the beef and onions over medium heat. Drain off excess grease, and add the tomato sauce, corn, chili powder, oregano, cumin, cayenne, Worcestershire sauce, garlic, beans, salt, pepper and water. Reduce to medium-low heat and simmer for 10 minutes, stirring occasionally.
Prep the peppers by slicing off the top and removing the seeds and white membranes. Spray baking pan with cooking spray, and place peppers upright.
Preheat oven to 375 degrees F. Spoon the beef mixture into each pepper and top with cheese. Bake for 35 minutes or until peppers are tender, and the cheese is golden brown.
Prep time: 15min
Cook time: 45min
Don't like beans? Try this version with rice, from CDKitchen.com.
Author: Brittany Smith
Bio: Brittany is a senior at Penn State majoring in advertising. She loves food and flavors and trying new recipes. Her dream is to produce advertising content for the Food Network, and possibly one day attend culinary school and become a chef.