Posted by James Eisenstein on 03/07, 2012 at 01:59 PM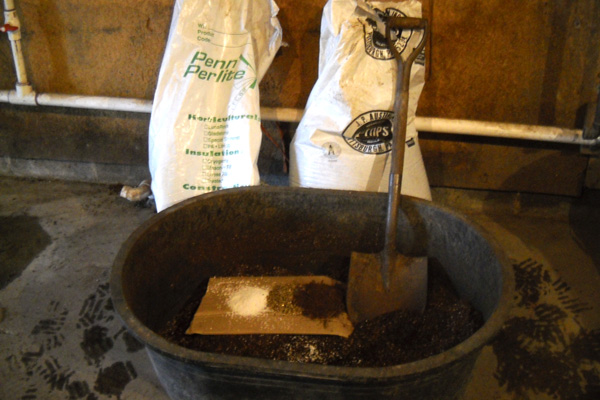 Seeding is a critical component of farming. No seed flats planted in February means no crops later. It is a laborious and painstaking, but oddly, satisfying task that I tackled two weeks ago. Here is how it works.
To begin, you have to prepare the seed starting medium. We use a formula of vermiculite, perlite, peat moss, and compost, blended together in a large tub. Regular soil is too rich and heavy, doesn't hold water well, and can harbor diseases that harm the seedlings. Twenty minutes of measuring, shifting compost, and mixing produced the first of the two patches.
The mixture is placed in plastic seed flats containing 72, 128, or 200 cells, each about an inch deep. We store the flats stacked one into the other, so they have to be separated. To do this, after 20 seconds of muttering, you manage to lift the end of a flat and begin to lift the edges on both sides. When you manage to get the other end separated and lifted, the end you started with neatly snaps back into the flat below. Repeat your muttering, maybe even utter a gentle curse, and start again.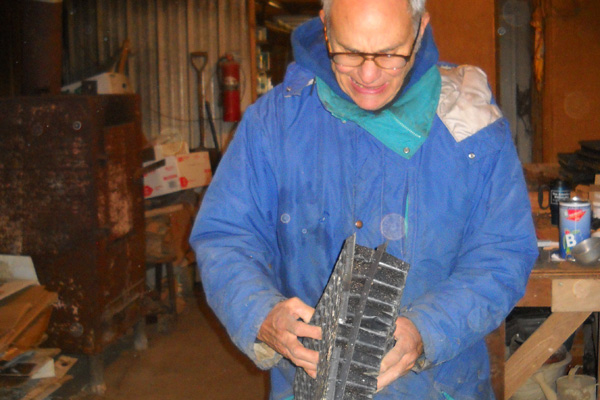 Filling flats is easier. You just hurl the mix into the flat, scrape off the excess with a short board, and press another flat into it to compress the soil, leaving about ¼ inch at the top. I planted two 200 cell flats with eggplant seeds and another two with sweet pepper seeds, three 128 flats with swiss chard, and thirteen 72 cell flats with leeks and onions. We plant five or six onion and leek seeds in each cell. Some don't germinate, and they will grow nicely even if there are several plants in each cell at transplanting time.
I put seeds in over 2,100 cells. To help pass the time, I put some "Verdi Opera Highlight" CDs in a CD player. John, who was building small boxes for beet seeding in the workroom next to the seeding room, helpfully translated the Italian lyrics as "Visiting relatives is not a vacation."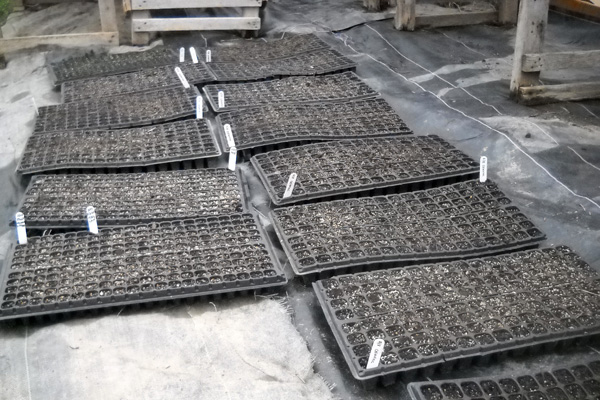 If you seed beets directly outdoors and set your hand-pushed seeder to close spacing, you might get good germination. But if you do, it isn't especially good news. Each beet "seed" actually contains within it several seeds. Good germination results in an unbroken line of seedlings, which then requires time consuming, meticulous hands-and-knees thinning. Anticipating this, you might instead plant the seeds further apart. But then, if germination is poor, you are left with a row with way too few beets, and you still have to thin the seedlings that sprouted from each seed. So we plant them in a box and transplant the seedlings, one by one.
Author: James Eisenstein
Bio: Unpaid Field Hand at Jade Family Farm | Former Penn State Professor